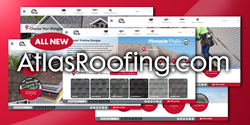 "We went through an extensive discovery process to understand what people are looking for when they go online to research and choose a shingle brand." —Jeff Key, director of marketing for Atlas
ATLANTA (PRWEB) February 01, 2023
Atlas Roofing Corporation's Shingles & Underlayments Division is excited to announce the debut of its redesigned website, AtlasRoofing.com. The refreshed site follows an update to the company's corporate website, Atlas-ARC.com, in 2022, when the company celebrated its 40th anniversary and released a rebranded version of the Atlas logo.
The updated site focuses on a significantly improved user experience for asphalt shingles, roofing accessories, and warranty options for both homeowners and roofing professionals.
The redesign includes:

Updated content, including new products and colors
Improved navigation and an intuitive search structure, allowing contractors and homeowners to quickly and easily find what they're looking for
A more streamlined interactive design of the Choose Your Shingle, Why Atlas, and Color Consideration pages, bettering the homeowner-user experience when selecting a new Atlas roofing system
An enhanced Shingle Selection Tool, offering filters based on product line, color, and features, plus a "Favorites" save option
Personalized/branded content from professional contractor and TV host Sherry Holmes
A revamped version of the Asphalt Life blog
"Choosing new roofing materials can be a daunting experience for both homeowners and roofing professionals alike," explains Jeff Key, director of marketing for Atlas. "We went through an extensive discovery process to understand what people are looking for when they go online to research and choose a shingle brand. We used that information to design our new site, and we believe our customers will appreciate the modern look and feel, as well as the intuitive features and ease of use of the site."
To check out the new website and explore everything Atlas has to offer, visit AtlasRoofing.com.
###
About Atlas Roofing Corporation
Atlas is an innovative, customer-oriented provider of asphalt shingles, roof underlayments, rigid expanded polystyrene and polyiso insulation, geofoam, cold chain, protective packaging, lost foam, and cutting-edge coated and paper facers and underlayments for a diverse set of markets. Atlas has grown from a single asphalt shingle manufacturing facility to 36 facilities in North America with worldwide product distribution. Products from the company's four major divisions, Polyiso Roof & Wall Insulation, Shingle & Underlayment, Molded Products, and Web Technologies, are manufactured in state-of-the-art facilities and shipped from its network of manufacturing plants and distribution facilities in the United States, Canada, and Mexico.
For more information about Atlas Roofing Corporation, please visit Atlas-ARC.com.