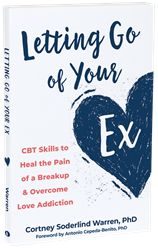 "If you fall in love and then break up, it can leave you in an addictive cycle of obsessive thinking, craving, and emotional upheaval. But there's hope–there are skills you can learn and use to help let go of your ex and create your next great life adventure."
NEW YORK (PRWEB) February 01, 2023
In her latest self-help book, Letting Go of Your Ex: CBT Skills to Heal the Pain of a Breakup and Overcome Love Addiction (New Harbinger Publications, February 1, 2023) Dr. Cortney Warren offers evidence-based skills grounded in Cognitive Behavioral Therapy (CBT) to help readers combat their symptoms, understand deceptive thinking patterns, and emerge empowered after a love-addicted breakup.
Have you ever gone through a heart-wrenching breakup? One of those life-changing romantic endings that leave you consumed by thoughts of your ex, desperate for answers, yearning for contact, and consumed by anger, sadness, and pain over the end of your relationship? If so, you may be going through a love-addicted breakup–and you aren't alone. Dr. Cortney Warren's new book may help!
For people who struggle with love addiction, breakups can be devastating. Although it's not a clinical diagnosis, love addiction is a term often used by mental health experts to describe a pattern of symptoms focused around a current or former love interest that harm a person's general well-being. People struggling with love addiction become hyper-focused on their ex, which leads to a host of highly unpleasant thoughts, feelings, and behaviors that reduce their quality of life and overall mental health.
Written by board-certified clinical psychologist and leading addictions expert Dr. Cortney Soderlind Warren, "Letting Go of Your Ex" offers powerful, evidence-based skills and techniques grounded in cognitive behavioral therapy (CBT) to help combat the overwhelming symptoms of love addiction. Through the content and exercises laced through the book, "Letting Go of Your Ex" teaches readers:

How and why love can function like an addiction
How to change the harmful beliefs that keep people stuck on your ex
How childhood experiences affect adult romantic relationships
How to avoid recreating old dynamics in a new relationship
Using the tools in this compassionate and nonjudgmental guide helps people going through a love-addicted breakup to move on and create a fulfilling future.
"Falling in love is a naturally addictive experience. If you fall in love and then break up, it can leave you in an addictive cycle of obsessive thinking, craving, and emotional upheaval that's very difficult to stop." Dr. Cortney continues, "The good news is that there's hope–there are many highly effective skills you can learn and use to help yourself let go of your ex and create your next great life adventure. "
"Letting Go of Your Ex" is now available at retailers such as Amazon, Barnes and Noble, and IndieBound. Tools used in the book are also available for free download on the New Harbinger Book Website.
####
About Cortney Soderlind Warren, PhD, ABPP
Dr. Warren is a board certified clinical psychologist and former tenured associate professor of psychology at the University of Nevada, Las Vegas (UNLV). Having won numerous professional awards for her research, Warren is an expert on addictions, eating pathology, self-deception, and the practice of psychotherapy from a cross-cultural perspective. In addition to her academic work, Warren is a speaker, author, and coach passionate about bringing psychological tools to the public. She earned her doctorate from Texas A&M University after completing a clinical internship at McLean Hospital/Harvard Medical School in 2006.
Press Contact:
Alix Abbamonte
Pace Public Relations
203.613.5642
alix@pacepublicrelations.com