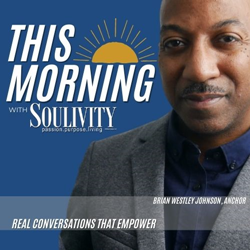 Starting February 9th, Soulivity.com's new morning program, "THIS MORNING with SOULIVITY," expands its reach to the listeners of ABC News Radio affiliate station KMET AM/FM in southern California.
WASHINGTON (PRWEB) February 02, 2023
This Morning with Soulivity joins KMET AM/FM near Palm Springs, California, Thursdays & Fridays at 9:00am Pacific Time (12:00 noon Eastern Time) beginning February 9th. KMET 1490 AM/FM 98.1, an ABC News Radio affiliate station, serves some 3.5 million people in its terrestrial broadcast area. The station also streams its shows over the Internet at http://www.kmet1490am.com. This Morning with Soulivity co-hosts discuss current affairs and is anchored by Soulivity founder, Brian Westley Johnson."We are thrilled that this diverse current public affairs program is joining our line-up that comes from our nation's capital, Washington, D.C.," said Mitch McClellan, KMET GM. "This ties our audience into what's happening, right now!"During each broadcast, a multi-facet panel of Soulivity TV hosts discusses current events or important issues. And, on a regular basis, they welcome phenomenal voices from around the world to provide more in-depth analysis and commentary."Our show is about real conversations about the people, places, and topics that are part of our everyday life," says show anchor, Brian Westley Johnson. "We can't wait to share important topics with the KMET community, and have them share their thoughts and concerns with us, as well."Founded in 2016, Soulivity was founded to serve humanity across the globe by providing inspirational content in different forms to uplift and move our collective experience forward, while eliminating fear and ignorance. With its unique "system of systems" approach, it provide opportunities for people of different walks of life to improve their lives. Soulivity's main goals are to support consumers in living a higher quality life; becoming more culturally aware and interconnected to the global community; increase personal and professional productivity, effectiveness, and efficiency; and, experiencing better lifestyle outcomes.