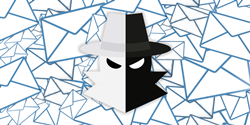 "SpamSpy does not slowly crawl through a static database with millions of entries, seeing if a submission matches its spam records exactly or not. It reads between the lines spotting spam that's never been written before. That's the true power of AI." ~ Neil Master - Deviated Systems Co-Founder
HOUSTON (PRWEB) February 03, 2023
Everyone knows what spam is at this point in our journey onto the internet. Whether it's via email, text, or a bot account on Instagram commenting on posts or messaging users something 'savory'. Spam and content moderation in general has long been a war happening behind the scenes of the internet, that has never been properly solved either. However, with the rise of AI a new threat is becoming paramount: AI Powered Spam.
Overall though, it is no secret that the internet itself is getting worse, being filled with junk like the Earth's orbit it's becoming harder to navigate every day. One side effect of these changes is how users are changing the way they search the web, according to a poll done by Android Authority "70% of respondents added 'Reddit' to their web searches on occasion. So it's definitely a significant number of people that do so."* There are no standards for content on the internet, with obviously no way to make the entire internet's content conform to any single standard either.
However, here comes a new super weapon for anti-spam and universal content moderation, SpamSpy. SpamSpy officially launched its services Monday, January 30th, and at launch it has the ability to moderate any form of content based on data and trends, identifying how truly relevant any content is to a user. Every business online receives spam mixed with real leads, and SpamSpy's first target in their fight to clean up the internet is spam submissions and emails. According to Statista of the 2,348.05 billion (2,348,050,000,000) emails sent in 2021 only 18% were legitimate, while 84% or 1,980.58 billion (1,980,580,000,000) were spam**.
With current spam filtering, placing a filter too strictly on a lead form easily eliminates any real leads submitted along with spam. One method used today is blocking any email not from trusted providers like @gmail.com or @Outlook.com, yet in doing so it has the potential to block any larger leads from other businesses that could be worth 20x or more of the usual leads a business gets. Thanks to its unique approach, Spamspy removes this issue with a ~97% accuracy that's ever evolving. "SpamSpy does not slowly crawl through a static database with millions of entries, seeing if a submission matches its spam records exactly or not. It reads between the lines spotting spam that's never been written before. That's the true power of AI." ~ Neil Master III - Deviated Systems Co-Founder & the Lead Developer behind SpamSpy.
SpamSpy can help remove not just generic spam, but highly targeted and customized AI spam too. With every user SpamSpy only grows stronger, meaning that every day their customers can spend less time sorting out spam and more time focusing on their business. It takes as little as $1/month to get started with SpamSpy's real time protection saving hours of time combing through CRM leads, removing all the irrelevant ones. For the few that slip through, they can simply be marked as spam, feeding these back to the API helping train SpamSpy's AI to filter these irrelevant leads out in the future.
SpamSpy is leading the charge by setting its AI on a warpath to clean up the internet's spam content, providing everyone with a new solution with its modular API on RapidAPI for dealing with form spam and general submission based content moderation, which is not the continuous game of catch up played today by current anti-spam approaches. SpamSpy's abilities are continuously being expanded to be able to protect every corner of the internet.
Since not everyone has a developer on call to implement SpamSpy custom for their needs. SpamSpy has been working on developing some easy to use integrations for popular platforms. With SpamSpy's first third-party integration, SpamSpy is making it easy to join the fight against spam, they have been working with Zapier and are releasing their SpamSpy Zapier integration app. The over 2.5 million active Zapier users can start taking advantage of it: February 6th 2023. SpamSpy's Zaps will have a number of uses, but the primary benefit is the ability to save users millions of dollars on their automation costs, by preventing irrelevant leads or content from being processed by a workflow/task.
Anyone can join the fight against spam using SpamSpy's API today by visiting https://spamspy.io. They allow users to start contributing for free, or get live protection starting at $1/month.
*Android Authority: https://www.androidauthority.com/reddit-web-search-queries-poll-results-3119551/
**Statista: https://www.statista.com/statistics/1270424/daily-spam-volume-global/