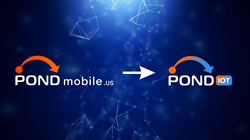 With this change, we're hoping to position ourselves better in the IoT market and drive more of our focus there.
WOODBRIDGE, N.J. (PRWEB) February 13, 2023
POND Mobile, is excited to announce the transition of its US division to POND IoT. This strategic move reflects the company's commitment to shaping the future of IoT, as it dedicates its efforts to developing new solutions and enhancing current offerings.
The new POND IoT brand represents the company's focus on the Internet of Things, and its determination to make IoT more accessible and user-friendly for businesses and consumers alike. With this rebrand, POND can empower its customers to harness the full potential of IoT and unlock new opportunities for growth and innovation.
"Making the transition to POND IoT seemed like the necessary next step to show our potential customers and partners just how much our IoT offerings have grown since our US division was created," says Zakira Patel, Senior Marketing Manager of POND IoT. "With this change, we're hoping to position ourselves better in the IoT market and drive more of our focus there.
"Included among the solutions of POND IoT are:- Domestic and International IoT capabilities

Multi-Carrier Capabilities: Coverage from the largest networks in the US on a single SIM
Asset Tracking and Management
Connectivity Hub
Custom APNs
Internet Failover and Backup
Custom Solutions
About POND:
POND Mobile, was founded in 2011. With offices worldwide and subscribers in over 150 countries, the US-based MVNO was the world's first global mobile operator. In 2018, POND Mobile launched its B2B division (renamed POND IoT in 2023) addressing the challenges of rigid wireless plans, poor customer support, and unpredictable policies. Headquartered in New Jersey, the company offers revolutionary Voice & Data solutions for Domestic, International, and Permanent Roaming subscribers. POND IoT services include Asset Tracking and Management, Multi-Network Cellular Service for Voice & Data across 800+ networks worldwide, Cellular IoT, Telecom Expense Management, SIM Swap Protection, Smart Caller ID, Local Numbers in up to 90 different countries, and 24/7 live Customer Support. Visit https://www.pondiot.com/ for more information.