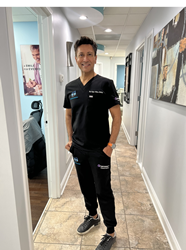 "Our patients like ONE office, ONE team of doctors, One Team and one fee and over 400 4.9 stars google reviews. They find that more comforting." Says Atcha
CHICAGO (PRWEB) February 10, 2023
WGN-9 and Daytime Chicago locally produced health and wellness is proud to announce Dr. Irfan Atcha's state-of-the-art dental practice implant center teeth New Teeth Chicago Dental Implant Center. As a featured partner of the show. Located at 747 N. La Salle St in downtown Chicago, Dr. Atcha's practice is not only unique aesthetically, but also unique with service. Besides being a provider for aesthetic dentistry, his office is Chicago's #1 provider for Full mouth All-on-4, Zygomatic and Teeth-In-A-Day dental implants. Patients fearing having to live with dentures, unhealthy teeth, and of facing the dentist, and are not sure of what dental solutions are available to them for their serious dental problems are put at ease by caring and thorough consultations, and at the end of the day, they are ultimately transformed by renewed confidence and a beautiful smile with the Miracle of Dental Implants.™ This provides the patients hope and it has a massive impact in their lives and everyone around them thanks to Dr. Atcha. Tune in to Day time Chicago on WGN9 at 10:00am, Thursday February 23rd and catch Dr. Atcha's segment where he will be talking to the show hosts in the studio along with a patient who will share his/her journey about miracle of dental implants with Dr. Atcha
As a featured partner of the show, Located at 747 N. La Salle St in downtown Chicago, Dr. Atcha's practice is not only unique aesthetically, but also unique with service. Besides being a provider for aesthetic dentistry, his office is Chicago's #1 provider for Teeth-In-A-Day dental implants. Patients fearing having to live with dentures, unhealthy teeth, and of facing the dentist, and are not sure of what dental solutions are available to them for their serious dental problems are put at ease by tuning in Daytime Chicago on WGN9at 10am, Friday February 23and catch Dr. Atcha's segment live!
Daytime Chicago is a unique resource to health-conscious Chicagoans. This weekly show spotlights everything health—from unique medical practices, harrowing stories of illness survival, and uplifting stories of overcoming health deficiencies, to diet and fitness tips with local Chicago land chefs and cooking ideas, Daytime Chicago has it all.
For more information New Teeth Chicago Dental Implant Center and Dr. Irfan Atcha can be contacted at 312-951-8338 or on the web newteethchicago.com. Dr. Atcha is a nationally known Implantologist who has dedicated his profession to learn the science and art of giving his patients beautiful smile by taking on complex full mouth dental implant cases. Patients fly from all of the US for their care at New Teeth Chicago Dental Implant Center. For over 25 years Dr. Atcha and his dedicated team have been helping patients from all over Chicagoland and all over the USA in their state of the art center on Lasalle and Chicago Ave.
"We provide hope and create and impact in our patients lives and everyone around them with the miracle of dental implants," says Atcha. "Having a full support team with in-house lab and in house dental lab mills and 3d printers as well as all 3d scanner for ideal planning for the patients allows my team and I to streamline care for the patients," says Atcha. Also, in office anesthesia for patients makes the process even more seamless and comfortable for the patients. Patients don't have to go to 3 different clinics for their dental implant care. "Our patients like ONE office, ONE team of doctors, ONE support team and ONE fee and over 400 4.9 stars google reviews," says Atcha.