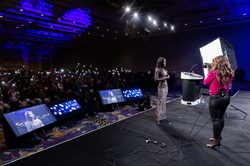 This year's WPPI show is shaping up to be the most dynamic and interactive event we've hosted in several years and we are super-excited to share this in-person event without mandates or health restrictions for the first time since 2019.
NEW YORK (PRWEB) February 15, 2023
Emerald, a leading operator of large business-to-business trade shows, is set to launch its most exciting and interactive conference and expo for wedding and portrait photographers in five years when it hosts the annual WPPI Conference + Expo at The Mirage in Las Vegas from March 5-9, 2023. For the first time since 2019, WPPI will take place without any in-person mandates or restrictions and the number of educational seminars, hands-on workshops and photo walks, networking events, and expo exhibitors will be the most in several years.
While information about the upcoming conference can be found on the WPPI website, the most entertaining way to stay up to date with conference schedules and activities is by tuning into the new WPPI Podcast every Wednesday and Friday. Hosted by renowned photographer, mentor, and business coach, Elena Blair, the podcast will feature engaging conversations with featured WPPI presenters. Produced in the same spirit as The Portrait System podcast, the WPPI Podcast promises to be educational, entertaining, and informative. In addition to lively interviews, the podcast is the place to go for updates on conference activities including photo bays, photo walks, exhibitor booth attractions, nightly networking events, daily giveaways, and so much more.
"This year's WPPI show is shaping up to be the most dynamic and interactive event we've hosted in several years and we are super-excited to share this in-person event without mandates or health restrictions for the first time since 2019," said George Varanakis, Strategic Advisor to Emerald's Photo Group, which includes WPPI, Portrait Masters, and The Portrait System Powered by Sue Bryce. "We have assembled an amazing group of widely accomplished photographers and educators who will share their knowledge with attendees and have organized an expansive number of interactive activities including photo bays, photo walks, and fun networking events every night. Our goal is to bring WPPI back to pre-pandemic form and provide a creative in-person environment that is educational, inspirational, and sprinkled with a whole lot of fun," Varanakis added.
Classes and Instructors
If education is what you're looking for, then WPPI is the place to be. With more than 100 classes and seminars on posing, lighting, business, sales and marketing, wedding and portrait tips, Photoshop techniques, and so much more, attendees will have no problem finding specific topics they want to learn more about or classes to sharpen existing skills. The lineup of instructors is a venerable who's who in wedding and portrait photography, education, and business. For a full lineup of classes, visit WPPI Classes. For a lineup of instructors and other presenters, visit WPPI Instructors.
WPPI Expo
This year's expo will include Canon, Fujifilm, and Nikon plus dozens of other industry manufacturers who will demonstrate the very latest in camera, video, and software technology as well as other photo-related products including photo albums, backdrops, and a variety of accessories to help photographers sell more photo packages to their clients. Many exhibitors will feature in-booth presentations about portrait and lighting techniques as well demonstrations showcasing new product features and functions. In addition, a live DJ will keep the energy level high by spinning tunes and giving away lots of cool prizes every hour throughout the expo!
Photo Bays and Photo Walks
If you're looking for hands-on learning, WPPI 2023 will have one of the largest selections of photo bays and photo walks in recent memory. Presented and supported by several manufacturers, the extensive lineup of photo bays will allow attendees to experiment with new camera and lighting gear and photograph models in a variety of studio settings.More than 50 photo walks are scheduled over four days and cover a variety of topics including Editorial Portraits on the Go, On Location Lighting Made Easy, Making Ordinary Locations Extraordinary, and many more. Visit WPPI Photo Walks for a complete listing.
Special Events
Las Vegas is synonymous with fun, parties, and good times with friends. So, it shouldn't surprise attendees that WPPI has organized an amazing lineup of networking events every night during the conference. Attendees can find the entire lineup of events here, which include Fujifilm's Official Opening Night Party on Monday, March 6th from 8:00 p.m.-11:00 p.m. at Capri Nightclub located in The Mirage. Music, lots of giveaways and photo-ops will be spread throughout the Nightclub.
On Tuesday evening, March 7th, Nikon will sponsor the "WPPI Shootout" from 7:30 p.m. – 10:00 p.m. Attendees will watch as four photographers go head-to-head to see who can create the best photograph in minutes using the same model, lights, and props.And on Wednesday, March 8th, WPPI will host its "1980's Closing Night Party" in the Grand Ballroom of The Mirage. Live music, costume contest, lots of giveaways, and photo-ops will highlight the evening so bring your inner Blondie and Bowie and let's go back to the future!
About Emerald
Emerald's talented and experienced team grows our customers' businesses 365 days a year through connections, content, and commerce. We expand connections that drive new business opportunities, product discovery, and relationships with over 140 annual events, matchmaking, and lead-gen services. We create content to ensure that our customers are on the cutting edge of their industries and are continually developing their skills. And we power commerce through efficient year-round buying and selling. We do all this by seamlessly integrating in-person and digital platforms and channels. Emerald is immersed in the industries we serve and committed to supporting the communities in which we operate. As true partners, we create experiences that inspire, amaze, and deliver breakthrough results. For more information, please visit https://www.emeraldx.com/
###