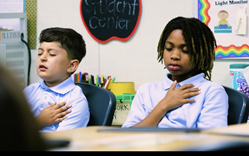 "Schools become places of belonging, compassion, and wellness when students and educators practice mindfulness, which in turn creates a strong foundation that prioritizes mental health," says Mindful Life Project founder and CEO JG Larochette.
RICHMOND, Calif. (PRWEB) February 15, 2023
Education nonprofit Mindful Life Project is teaming up with Selena Gomez's Rare Impact Fund, Genentech, and Zephyr Impact, raising $1.65 million to bring in-person mindfulness programming to tens of thousands of students across California.
The largest and most comprehensive organization of its kind, Mindful Life Project (MLP) integrates into school communities by providing daily, in-person mindfulness coaching in classrooms by a full-time instructor. Additionally, MLP implements mindfulness programming for educators and parents on how to practice and draw on the tools. Practicing mindfulness – training the mind and body to be in the present moment without judgment– is a scientifically proven element that improves mental and emotional health. Mindfulness-based social emotional learning helps students gain self-awareness, emotional regulation, confidence, and healthy interpersonal relationships, among many other skills they need to thrive in a complex world.
Selena Gomez, Founder and Creator of Rare Beauty and Rare Impact Fund, has made it her life's mission to both destigmatize mental health and create systemic change. Ensuring mental health is prioritized with access and programming for young people, Gomez shares her excitement about the partnership with Mindful Life Project and the other nonprofits in this cohort.
Elyse Cohen, VP of Social Impact & Inclusion at Rare Beauty and President of the Rare Impact Fund shared, "Through the constant support of our community, partners and donors, we are thrilled to welcome a new cohort of grantees who share our mission of providing access to life-saving mental health support, education and services. Together we will further our collective commitment to reach young people in need."
MLP prioritizes historically low-income communities and school districts where students are dealing with the impact of systemic racism and other inequitable structures. Its innovative model draws on cultural competency and trauma-informed practices to provide wellness programming and de-stigmatize mental health care for under-resourced communities.
"Schools become places of belonging, compassion, and wellness when students and educators practice mindfulness, which in turn creates a strong foundation that prioritizes mental health," says Mindful Life Project founder and CEO JG Larochette. "These partnerships validate the need and importance of providing in-person mindfulness programming from a deeply relational, culturally responsive, and connected way."
Assessments show that schools who participate in MLP's programming see a 52% reduction in disciplinary actions, 110 minutes of regained teaching per week for teachers and students, and over 80% increase in social emotional learning skills such as self-regulation, peer relationships, self-awareness, and ability to focus.
"Early social emotional learning interventions can help kids become more resilient, and hold the potential to improve education and health outcomes for the rest of their lives," said Kristin Campbell Reed, Executive Director, Citizenship & Engagement, Genentech. "Our partnership with Mindful Life Project offers a powerful blueprint for how to scale effective wellness programs to schools nationwide, and reflects our commitment to support communities marginalized by racism and systemic inequities."
Details of the partnerships:

Selena Gomez's Rare Impact Fund is partnering with MLP to bring awareness of the importance of mental health programming in schools, help grow capacity to scale, and expand both in the San Francisco Bay Area and into a new California region. The total $150,000 investment will also empower high school student wellness leaders.
Genentech is investing $500,000 to support in MLP in growing its measurement and data analysis by having a third-party evaluation to further validate the beneficial impacts of in-person mindfulness programming in classrooms, propelling a movement to incorporate this model in education across the United States.
Collaborative philanthropy initiative Zephyr Impact, launching its new Youth Wellbeing Fund, will provide an advisory council of experts and invest $1 million over three years to enable MLP to strengthen operations and expand its innovative model nationwide.
The U.S. Surgeon General Dr. Murthy warns of increased rates of psychological distress among young people during the pandemic, citing global research showing that 25% of youth experience depressive symptoms and 20% experience anxiety symptoms. With mental health at the forefront of a national discussion, California Governor Gavin Newsom has allocated significant funding towards youth behavioral health, including wellness in communities. "Mindfulness offers fresh possibilities for all of us to nourish the very best within ourselves," said Andrew Smiles, Co-Founder of Zephyr Impact. "Mindful Life Project, powered by a successful model and capable leadership, is poised for strategic growth that will introduce even more young people to the transformative potential of mindfulness."
Mindful Life Project
Mindful Life Project was founded in 2012 by former classroom teacher JG Larochette. It is an innovative educational nonprofit that supports schools through highly impactful in-person mindfulness-based social emotional learning programming. MLP's comprehensive approach supports the mental and emotional well-being of students, teachers, staff, community leaders, and families and helps transform schools from the inside out. Please visit MindfulLifeProject.org or read our 2021-2022 Annual Report to learn more.
Rare Impact Fund
The Rare Impact Fund was started by Selena Gomez as part of her commitment to addressing mental health and self-acceptance. The Rare Impact Fund is raising $100 million over the next ten years to expand access to mental health services and education for young people around the world. We collaborate with a network of grantees, donors, and community to reduce the stigma associated with mental illness and provide young people with access to the resources they need to support their mental health. This includes co-creating free mental health content with our partners and sharing it through our website, social media, and events. As part of this effort, 1% of all Rare Beauty by Selena Gomez sales are donated to the Rare Impact Fund, in addition to raising funds from philanthropic foundations, individuals, corporate partners, and the community.
Genentech
Deeply rooted inequities, structural racism and other forms of systemic injustice affect our ability to push the boundaries of science and improve outcomes for all patients. That's why we invest our philanthropic resources and employee time and talent to foster innovation and advance sustainable solutions to inequities in healthcare and education. Our giving initiatives aim to diversify the scientific and medical workforce, advance a more just healthcare system and build local partnerships to ensure our communities thrive.
Zephyr Impact
Zephyr Impact brings together donors and social entrepreneurs to achieve transformative change. This collaborative giving model puts ambitious philanthropy within reach of family offices by pooling resources and providing expertise to find the most promising ideas for positive social impact. Zephyr Impact then surrounds selected nonprofits with guidance to help them grow. Founded by Harbourton Foundation and StepChange Partners, Zephyr Impact launched the Youth Wellbeing Fund in 2022 to address the national youth mental health crisis.