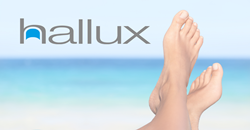 "We believe HSG has the potential to deliver a high response rate that leads to resolution of this tough-to-cure fungal infection" ~Mark Taylor, Hallux CEO
LAGUNA HILLS, Calif. (PRWEB) February 28, 2023
Hallux Inc., a specialty pharmaceutical company, today announced that it has exceeded its enrollment target in HSG-201, the company's Phase 2a clinical study evaluating Hallux Subungual Gel (HSG) for the topical treatment of onychomycosis. The 52 week study evaluates the efficacy, safety and tolerability, and pharmacokinetics of HSG administered by the investigator directly to the nail bed once monthly or bi-monthly over 44 weeks. The primary efficacy endpoint is complete cure. The intent-to-treat population comprises patients that are treated by two podiatrists and one dermatologist.
Hallux CEO Mark Taylor said, "We thank our three principal investigators at OrthoArizona Foot and Ankle Institute, J&S Studies, and Front Range Foot and Ankle Clinic for enrolling these mycologically confirmed patients in relatively fast order. I would also like to thank the staff of our podiatry site manager Physician's Research Group, LLC for their excellent study coordination. We believe HSG has the potential to deliver a high response rate that leads to resolution of this tough-to-cure fungal infection that is reported to affect over one hundred million people globally. We look forward to positive data and the opportunity to advance HSG to pivotal controlled studies.
About Hallux
Hallux Inc. is a specialty pharmaceutical company focused on developing therapeutic solutions for common podiatric and dermatologic disorders. HSG, a novel subungual dosage form of the potent antifungal drug terbinafine, is designed for the topical treatment of onychomycosis (toenail fungus). Hallux's goal is to provide patients and physicians a quick, atraumatic in-office treatment that is highly effective after a series of single monthly or bi-monthly doses.