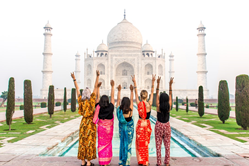 NEW YORK (PRWEB) February 22, 2023
Traveling with a group of women can be an empowering experience for a number of reasons. It is a way to strengthen and create lasting friendships while connecting with both the destination's culture and each other through shared moments. And a tour is a perfectly planned vacation that provides ease of planning, VIP access to sights and experiences, and showstopping encounters that add up to memorable getaway. In celebration of International Women's Day on March 8, the United States Tour Operators Association (USTOA) has curated a selection of women-only trips provided by members: SmarTours
Marvel under the spectacular Aurora Borealis on a six-day, women-only departure to Iceland. Travelers journey through the country's stunning landscapes while learning about local women and Icelandic traditions along the way. Highlights include a visit to the home of a local storyteller, experiencing the power of geothermal energy while baking fresh bread, discovering waterfalls and hot springs, and hunting for the Northern Lights. Prices start at $2,499 per person. For more information, visit https://smartours.com.
Intrepid Travel
On a 12-day women's expedition to India, travelers will get to know Northern India through the lives of native women while exploring with a female tour leader. Activities include taking a jeep safari into the Thar Desert, enjoying an exclusive Kalbeliya dance performed by local women at a desert camp, visiting a local woman's home, and selecting a saree and accessories to wear on a visit to the Taj Mahal. Prices start at $1,585 per person. For more information visit https://www.intrepidtravel.com.
Trafalgar
Travelers will visit two countries and two cities, all within nine days on an all-women's trip to Europe. Highlights from this trip include a scenic train ride from Avignon to Paris, viewing the Eiffel Tower and Notre Dame Cathedral in Paris, climbing aboard a scenic cruise to St. Tropez, visiting the sun-kissed shores of the French Riviera, viewing the Pont d'Avignon and walking the medieval narrow streets of the Old Town to the Palais des Papes. Prices start at $2,888 per person. For more information visit https://www.trafalgar.com.
SITA World Tours
Guests will have the opportunity to admire the diverse ecology and colorful culture of Chile on SITA World Tours' Chile: Patagonia, Easter Island, and Buenos Aires 11-day tour. Travelers will start their vacation in Santiago and visit Santa Lucía Hill, where the Spanish conquistador Pedro de Valdivia founded the city in 1541 and take a guided tour of the Pre-Columbian Art Museum. After Santiago, guests will stop at the Veramonte Vineyard for a wine tasting, visit Valparaíso, a UNESCO World Heritage site where stairways and old funicular lifts lead up to the hills on which the city is built, and loads more. Prices start at $4,340 per person.
For more information visit https://www.sitatours.com. Editor's Note: Information was correct at the time of writing. All tours/packages are subject to availability. Prices may vary from the time of writing, based on currency fluctuations.
About USTOA:
Representing $16 billion in revenue, the member companies of U.S. Tour Operators Association provide tours, packages, and custom arrangements that allow six million travelers annually unparalleled access, insider knowledge, peace-of-mind, value, and freedom to enjoy destinations and experiences across the entire globe. Each member company has met the travel industry's highest standards, including participation in the USTOA's Travelers Assistance Program, which protects consumer payments up to $1 million if the company goes out of business. As a voice for the tour operator industry for 50 years, USTOA also provides education and assistance for consumers and travel agents.
Contact:
Gina Dolecki/Alice Phillips
Redpoint
212-229-0119
dolecki@redpointmarketingpr.com/phillips@redpointmarketingpr.com