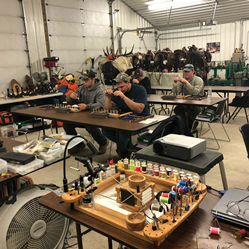 "There are certain skills needed to turn a love for the outdoors into a career. The ones with a military background have the prerequisite skills to become a successful guide. Discipline, quick thinking, leadership skills, all attributes they learned in the military are applicable." - Larry Keyes
WHITEFISH, Mont. (PRWEB) February 27, 2023
According to statistics provided by VA.gov, veterans leaving the military who are looking to utilize their educational benefits have enrolled in a typical 4-year college or university.
"Veterans who began using VA education benefits in 2017, 52% were enrolled in an undergraduate program, 24% in a two-year school, 9% in a graduate program, and 15% in a vocational, technical, or non-degree program." (source: VA.gov)
While this is still true over the last few years, new reports are starting to see veterans shift away from traditional college enrollment due to a variety of reasons. These reasons include,

While these are some of the factors that push veterans away from 4-year colleges, it certainly is not all of them.
Trades and Occupational Alternatives for Veterans Using their GI Bill®
Speaking with owners of trade schools who accept the GI Bill, they are finding veterans are choosing their programs over a college degree for a variety of very diverse reasons.
One such owner is Larry Keyes, owner of a world-class Hunting Guide School facility located in Whitefish, MT called The Bridger Institute. His school teaches the hands-on skills necessary to become a wilderness and hunting guide. Bridger Institute offers many programs that are very enticing for military veterans seeing so much of what they learned in the military translates perfectly into a full-fledged, hunting and wilderness guide career. A look at what the school teaches and you quickly realize why there is such an up-tick in military men and women who are registering for their most popular program geared towards starting a business as a hunting guide. 4 Week Hunting Guide School Teaches:

Rules, Regulations and Ethics
Horsemanship
Packing Horses & Mules
Professional Guide Skills
Big Game Hunting Skills & Techniques
Bow Hunting Skills & Techniques
Firearms Hunting Skills & Techniques
Fishing Skills & Techniques
Trapping Skills & Techniques
Wilderness Camping and Outdoorsmanship
Wilderness Cooking
Wilderness Navigation
Wilderness Survival
Wilderness First Aid
Health & Safety For Horse & Rider
Career Development
When asked about why more veterans are enrolling in his school, Larry noted that many of his veterans have cited everything from wanting to have an outdoor job that allowed them to do the things they loved to citing political bias in the university system as being off-putting.
Larry noted that enrollment happens fast and encourages students not to wait to enroll because the class fills up very quickly.
Bridger Institute teaches the primitive skills, wilderness survival skills, hunting skills and also the business skills needed for turning a love of the outdoors into a viable career path. Many men and women who went into the military wanted adventure and hands-on training are finding that a career as a hunting guide offers the same things that attracted them to the military in the first place. For more information on Bridger Institute and their programs you can visit their website at https://huntingguideschoolmontana.com or call (844) 812-4874.