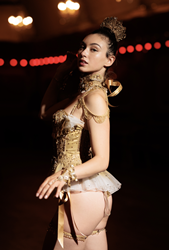 Classically trained Bella Ballerina combines burlesque ballet with art in London to come out of the covid-19 pandemic on top!
LONDON, United Kingdom (PRWEB) February 22, 2023
London's newest and hottest performer, Bella Ballerina, has taken the entertainment industry by storm with her scandalous journey to the top.
From a lifetime of training as a classical ballerina, Bella found herself on the verge of giving up on her performing career after realising that ballet companies were not a perfect fit for her and were unable to offer support through the lockdowns. Bella Ballerina had been performing on stage prior to the COVID-19 pandemic in La Traviata at The Royal Opera House. However, with the government shuttering the theatres, she saw an opportunity in an otherwise dark time.
The pandemic brought out her inner creativity and pushed her to explore new and daring avenues. Bella Ballerina launched a Patreon account that funded her artistic endeavors, and with her unique skills in ballet, art directing, and modelling, she quickly amassed a dedicated following on social media growing her instagram @bellaballerina_x from a couple of hundred followers to nearly thirty thousand! With her confidence soaring, Bella discovered her passion for cabaret and began creating her own unique ballet burlesque acts.
Using her creative contacts, including costume makers, choreographers, musicians, and prop makers, she creates beautifully unique and wondrous performances. Headlining at exclusive venues such as The Windmill, The Box Soho, and The Ned, as well as being flown around the world to perform at private and exclusive parties, her classy performances leave audiences entertained and titillated.
Bella Ballerina is quickly becoming London's most talked-about ballerina. With the financial stability of her successful performances and Patreon supporters, Bella Ballerina has expanded her creativity into the world of NFTs and Web 3.0 artwork. To showcase her work, she is planning an immersive gallery exhibition at the NFT Gallery on Dover Street for the launch of a series of exclusive prints from her first self-published coffee table art book titled "A Night at the Cabaret," photographed by George On A Boat.
"I'm excited to be creating beautiful artwork that reflects my passion and creativity. I believe that art and dance are intertwined, and I'm thrilled to be able to share my prints and book with the world. I enjoy showcasing ballet in a new exciting way bringing 18th-century French court dancing very much into the 21st modern era" added Bella.
Body-confident Bella Ballerina is proud of her journey and the fan base that supports her artwork.
Her website, http://www.ballerinabella.com, is the best way to purchase and support her new book and artwork.
This new burlesque ballet is supporting a team of creative artists who are working with Bella Ballerina producing new acts for high-end venues and parties across London keeping the artistic industry very much alive in the United Kingdom.
For more information about Bella Ballerina and her captivating performances, visit her website at http://www.ballerinabella.com and keep up to date with her on Instagram @bellaballerina_x.