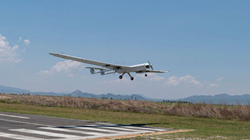 "We are confident in what our products can bring to the UAE market and exhibition..."
ABU DHABI, UAE (PRWEB) February 22, 2023
As part of this year's IDEX exhibition in Abu Dhabi, UAE, Hydra Technologies is showcasing the solutions they can bring to the region. The battle proven S45 Baalam unmanned aerial system, in its successful intelligence surveillance reconnaissance and targeting solutions, and weaponized optional version is part of the Hydra offer to the defense and security market exhibited in the Emirates capital this week. As a novelty, Hydra is also offering synthetic aperture radar (SAR) solutions on its platforms for special operations and coastal security and naval ISR missions.
The S45 is a dual-engine, 70 mile or 120 km line of sight range tactical system with an operational ceiling of 17,000 feet and 12 hours of effective mission time. It is equipped with state-of-the-art gimbal camera systems that include medium wave infrared and visual spectrum high-definition sensors with up to 130X zoom. The S45 also offers multiple solutions to support ground forces through advanced on-board radio repeater systems and state of the art remote video terminals.
Hydra is showcasing its proven solutions to the world market at IDEX, UAE as this exhibition has been consistently thought of as "the most important tri-service defense exhibition in the world." As the largest show of its kind in the region, IDEX signifies a continued and solid global development for Hydra Technologies.
Other models presented at IDEX include small precision loitering munitions like the ground-to-ground or air-to-ground HUUL-2. As well as the latest Hydra development, the Silent Strike guided munition, which has a 3 kg warhead. Also present at the show is the family of catapult launched fire and forget attack UAVs like the M40 BLUEFISH, with a 500 km range and 15 kg warhead.
"IDEX presents an opportunity for Hydra and our commitment to bring creative and proven solutions to customers that will benefit from them in this important market," said Ivan Vazquez, marketing executive for Hydra Technologies. "We are confident in what our products can bring to the UAE market and exhibition, as well as other military and forces that require reliable systems in this region of the world."
Hydra's systems have been deployed with success to different military, national security, and law enforcement end users, achieving the highest indexes of reliability in the market.