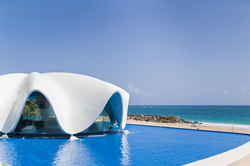 "Joining Marriott's Autograph Collection is a huge step forward in La Concha's legacy as one of Puerto Rico's premier hotels," said John Paulson, President of Paulson & Co
SAN JUAN, P.R. (PRWEB) February 23, 2023
La Concha Resort, one of the most iconic and storied hotels in San Juan's fashionable Condado district is set to become the latest addition to Marriott International's "Autograph Collection," as announced by Fahad Ghaffar, Partner at Paulson Puerto Rico, the company that owns and operates the hotel.
"La Concha Resort has had a long-standing relationship with Marriott, previously forming part of its Renaissance Hotels group for 15 years. Joining Marriott's Autograph Collection is a huge step forward in La Concha's legacy as one of Puerto Rico's premier hotels," said John Paulson, President of Paulson & Co. "With this partnership, our guests will enjoy new levels of luxury and an enhanced guest experience."
The Autograph Collection is part of Marriott's Distinctive Premium tier of hotels. It includes over 270 independent hotels and resorts located in some of the world's most desirable destinations spread out across more than 45 countries and territories. Each hotel is hand-selected for its uniqueness in both design and its approach to hospitality, following the motto "Exactly Like Nothing Else." Currently, it is the most demanded and popular of all Marriott's brands.
This will be the first Autograph Collection Resort in Puerto Rico. Featuring 473 rooms and suites, La Concha Resort offers tropical modernism and bountiful amenities, showcasing sweeping panoramic views of the ocean right at the epicenter of San Juan's hottest social scene. Among its main attractions are the popular Casino del Mar, which features the newly built BetMGM Sportsbook, the first of its kind in Puerto Rico, and Fifty Eight Club, at which Grammy award winner, Bad Bunny, has performed multiple times. Originally built in 1958, then renovated and reopened in 2007, the hotel has a rich history and has long been a key component of Puerto Rico's tourism industry.
As part of the upgrade, Ghaffar announced the investment of $45 million in a full renovation of 238 ocean front suites as well as new additions to La Concha's offerings and amenities, among them the construction of a new five-star spa and renovations to the Beach Club. The hotel will also be the home of Tekka Bar, a high-end sushi restaurant concept by renowned Las Vegas restaurateur Takashi Segawa. An exciting new restaurant will also be coming to the iconic Perla space, to be announced in the coming months.
The group owns and operates over ten restaurants, including STK and Serafina. La Concha Resort is part of The Condado Collection of hotels owned and operated by Paulson Puerto Rico, one of the largest private firms on the island with over 3,000 direct employees. Other hotels in The Condado Collection include the Condado Vanderbilt Hotel and Condado Ocean Club. The group owns the Forbes Five-Star St. Regis Hotel and Spa as well.
###
ABOUT LA CONCHA RESORT
La Concha Resort, a spectacular landmark in modern Caribbean architecture, has 233 oceanfront rooms and a 235-suite tower. The gastronomic offer includes Solera, Sereno Bar & Grill, Marena, Aroma, Lobby Bar, The Loft Beachfront, and Serafina San Juan. All facilities have free high-speed internet. The hotel has a modern gym facing the sea and the newest casino in the Caribbean. For reservations and additional information, you can call (787) 721-7500 or visit the page http://www.laconcharesort.com.
ABOUT THE CONDADO COLLECTION
Condado Collection is a group of hotels and experiences located in San Juan, known for their exceptional service and top-notch amenities. The collection includes the luxurious Condado Vanderbilt, the trendy La Concha Resort, the iconic Condado Ocean Club, and the unique Casino Del Mar with BetMGM Sportbook,  All of these properties are situated by the Atlantic Ocean and offer guests a memorable experience. In addition, the collection features popular dining options such as STK, Serafina, 1919 and many more.
MEDIA CONTACT:
Murphy O'Brien Public Relations
thecondadocollection@murphyobrien.com