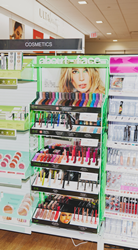 "Offering a full color range across multiple franchises, Ulta Beauty guests will now have a truly immersive and tactile experience testing and playing at our personalized displays," said Jeanne Chavez, co-founder and Chief Innovation Officer, about-face.
LOS ANGELES (PRWEB) February 24, 2023
about-face, the multi-dimensional color cosmetics brand announces further expansion at Ulta Beauty with custom-branded installations featuring a full cross-category assortment, now available nationwide in 300 doors.
"We are so excited to launch about-face in our own space at Ulta Beauty, marking the next phase of our retail partnership," said Jeanne Chavez, co-founder and Chief Innovation Officer, about-face. "In offering a full color range across multiple franchises, Ulta Beauty guests will now have a truly immersive and tactile experience testing and playing at our personalized displays. We curated our in-store collection with the Ulta Beauty team to ignite curiosity and inspire experimentation. And we're already dreaming up the next chapter of innovation to bring to the retailer's highly engaged guest."
In June 2022, about-face was introduced to Ulta Beauty guests through SPARKED at Ulta Beauty, a curated assortment of rising beauty brands launching in retail for the first time. The exclusive partnership brought the award-winning Matte Fluid Eye PaintsTM,to select doors across the U.S., with a wider assortment from the line available on Ulta.com. Both about-face fans and the Ulta Beauty community quickly took to the pigmented products with fervor, exceeding expectations and creating an even higher demand for the pro-level, high-performance color cosmetics.
"We're thrilled to continue to build upon our exclusive partnership with about-face," said Muffy Clince, Director of Emerging Brands, Ulta Beauty. "Since launching through SPARKED, the brand has resonated strongly with our guests with its beautifully pigmented shades, unique packaging, and celebration of individuality. Now, with this exciting expansion, we're proud to provide greater access to more guests across the nation to discover about-face and have fun along the way."
Today, Ulta Beauty guests can shop best-selling franchises including a full range of shades from Matte Fluid Eye PaintTM, Shadow Fix Eye Primer, award-winning Line Artist Gel Eyeliner, Fractal Eye Paint, Shadowsticks, Brow Artist Eyebrow Pencil, Volumizing Mascara, Cheek Freak Blush Balm, Paint-It Matte Lip Color, Matte Fix Lip Liner, and the NEW Cherry Pick Lip Color Butter at their local Ulta Beauty store. The collection is featured in a custom-designed, multi-level branded fixture with neon green lighting illuminating the try and buy experience.
On Sunday, February 19, Halsey marked the significant launch for the brand with an intimate concert event in Los Angeles to celebrate the about-face x Ulta Beauty expansion. Brand fans, content creators, executives and friends alike attended the celebratory evening where Halsey performed a jazz-inspired set featuring some of their greatest hits highlighting their creative, disruptive approach to both music and beauty. The guests also enjoyed the experience of makeup stations, a vintage black and white photo booth, and a full gifting suite upon their departure.
"It is such an exciting new chapter for about-face at Ulta Beauty", said Halsey, co-founder and Chief Creative Officer. "It reminds me of watching my tours grow from small venues to big arenas in more and more cities. I remember seeing people sing the words in places I had never visited before, and I had the same feeling walking into an Ulta store and seeing the testers had been used. The finger marks, the swatches, wondering which color they liked the most and which went home with them. For the first time, our community can really see how pigmented our products are, touch and feel the packaging, and try our full assortment. It allows both the novice and the artist to experience the brand in-person, and I can't wait to see our incredibly talented community only continue to grow."
As a second wave to the evolution, about-face will have a specially-curated assortment within Conscious Beauty at Ulta Beauty starting in May. This collection will be featured in all Conscious Beauty end caps across the U.S. as the brand is 100% vegan, cruelty free and formulated with clean ingredients, meeting Ulta Beauty's three of the five standards for certification in the respective pillars.
Commencing as a strictly DTC business, the brand is beyond thrilled at the positive responses and evident results of this authentic retail partnership. As about-face continues to introduce new innovation and modern formulas to both its community and Ulta Beauty's, its ethos remains the same with the overarching goal of providing everyone, everywhere access to high-performing, long wear, clean formulas that both encourage and empower self-expression.
About about-face:
Makeup without rules. Made for the many versions of you, about-face is multidimensional makeup for everyone, everywhere created by Halsey and built on the truth that no one is just one thing and all humans are weird, complex and imperfectly beautiful beings. Everyone has their own messy, mad and personal method to becoming the greatest version of themselves, so we make products that are hardworking over hype, designed to celebrate the journey to become every version of us and all experimental versions along the way. Our pigment-saturated, long-wearing, buildable formulas empower self-expression and are 100% vegan and cleanly formulated.
About Halsey:
Halsey has amassed more than 40 billion global streams, with over 60 million RIAA certified adjusted singles and albums sold in the US to date. Their latest album, If I Can't Have Love, I Want Power, was released in August of 2021, produced by Trent Reznor, and was Grammy-nominated for Best Alternative Music Album at the 64th Annual Grammy Awards. It follows the release of Manic, which debuted at No. 1 on Billboard's Top Current Albums chart. It was the first album of 2020 to be certified Platinum in the U.S. and attained Platinum certification in numerous other countries. In both 2019 and 2020, Halsey ranked as Top 5 Female Artists on Spotify with 41 million monthly listeners globally and 19 million followers on the music streaming platform.
Halsey continues to push creative boundaries, exerting an influence and impact beyond music. Her first book, I Would Leave Me If I Could: A Collection of Poetry, debuted on The New York Times Best Sellers list in November, 2020. Named as one of TIME's 100 Most Influential People of 2020, they have won over 20 awards, including an AMA, MTV VMA, GLAAD Award, the Songwriters Hall of Fame's Hal David Starlight Award and a CMT Music Award. In 2021, Halsey introduced about-face, a multi-dimensional makeup line made for everyone. Halsey continues to speak up for important causes such as disenfranchised youth, women's rights, mental health and the LGBTQ community.