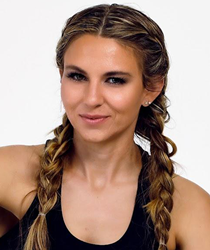 Award recipient Courtney Hudson Smith uses customized pre-hab programs to keep pitchers injury-free for baseball season
BELTON, Texas (PRWEB) March 02, 2023
As a veteran pitching coach and Head of Athlete Development at Huntsville, Alabama's top sports performance facility, Courtney Hudson Smith gets very excited about baseball season. Since becoming certified as a corrective exercise specialist in The BioMechanics Method in 2019 and winning The BioMechanics Method Corrective Exercise Specialist of the Year award in 2022, Courtney has used her exceptional corrective exercise skills to help pitchers of all ages and abilities. In addition to seeing one of her more notable clients, pitcher Kyle Wright of the Atlanta Braves win the World Series in 2021, Courtney also had four pitchers competing in the College World Series in 2022.
Smith had already been helping softball and baseball pitchers improve their performance for over 15 years, but says the corrective exercise knowledge gained from The BioMechanics Method transformed the way she looks at athletes. "The experience of my athletes can only be measured with increased performance", she says. "I have developed a system of training to peak athletes at the right time for college and professional scouts. By using The BioMechanics Method of corrective exercise in customizing pre-habilitation programs, the athletes stay on or ahead of their development schedule. More importantly they are not missing valuable training time due to preventable injuries, excessive soreness, or poor recovery times."
In addition to her in person coaching services at Engineered Performance Lab in Huntsville, Courtney offers online coaching and remote corrective exercise services for athletes. She also provides postural and movement assessments for baseball and softball teams. The results of her assessments enable coaches to understand the limitations of their athletes, make better decisions for the team, and coach specifically to the individual to put each athlete in the best possible position to succeed. Mary Bratcher, program coordinator for The BioMechanics Method, says "Courtney uses her corrective exercise skills to greatly improve the experience and longevity of athletes. We are thrilled to have her as the current Corrective Exercise Specialist of the Year® award recipient".
ABOUT THE BIOMECHANICS METHOD
The BioMechanics Method is the provider of the world's highest rated corrective exercise specialist credential. The BioMechanics Method Corrective Exercise Specialist certification (TBMM-CES) teaches fitness, exercise and health professionals how to assess clients for common musculoskeletal imbalances and correct any issues they uncover through the use of targeted corrective exercises. Specialists trained in The BioMechanics Method have the ability to reduce pain, improve movement and enhance performance, and can be found in over 75 countries. Learn more at thebiomechanicsmethod.com.