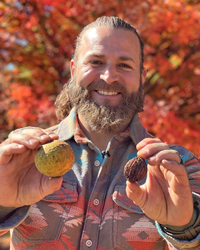 It's a win-win – as the customer gets a healthy, sustainable, wild food, foragers prosper from providing the raw materials. Supporting foragers, companies and suppliers in this way move us toward a newer – or perhaps an older – way of engaging with the landscape for our food needs.
BIDDEFORD, Maine (PRWEB) March 16, 2023
Most of us are familiar with the common walnut we grew up eating throughout the year. Those walnuts, available widely in grocery stores, come from the English Walnut (Juglans regia), cultivated primarily in commercial orchards from trees that originated in the UK and Europe.
But what many people may not realize is that the prized Black Walnut (Juglans nigra) is native to North America, where it can only be found growing wild in the eastern United States. From the Great Lakes to the Gulf of Mexico east to Virginia, Pennsylvania and New Jersey, Black Walnut trees sustained Indigenous peoples, including the Cherokee, Delaware, Chippewa, Iroquois, Meskwaki and others, for thousands of years.
Those Native American tribes, like the European settlers after them, valued the tall, stately Black Walnut for its bark, wood, natural dyes, medicinal value, and food. For millennia, foragers have sought the nutmeats of the wild-grown Black Walnut, rich in nutrients, essential fatty acids and protein, as an important and delicious food source – a tradition that continues to this day.
In fact, it can be said that Black Walnuts are one of the last wild-foraged foods in America today!
Foraging Black Walnuts: A Longtime Tradition Surthrival's new Black Walnut Protein Powder is sustainably sourced exclusively by foragers of wild Black Walnuts. For about six weeks each October and November, foragers, families and friends gather to collect Black Walnuts by hand from fields, forests, farms and yards.
Then, in bags, buckets, trailers, and even truckloads, they bring them to buying stations in garden centers, feed stores and grocery stores set up seasonally throughout the Midwest, where the foragers are paid by the pound for their harvest. Once the Black Walnuts are collected, sorted, husked and hulled by a third-generation, family owned business based in Missouri – the heart of Black Walnut country – for Surthrival, the nutmeats are turned into an exquisite, high-quality, fully-absorbable, protein powder that is ideal for smoothies, blended drinks, and to fortify baked goods and other recipes."Black Walnuts grow wild in fields and pastures across the Midwest and are hand-harvested by locals every year.
"They grow naturally, watered by the rain, and are produced without the chemicals or pesticides often used in commercial orchards. They're also gluten-free, creating an ideal ingredient for any consumer concerned with food additives and the growing process of the foods they choose," says Daniel Vitalis. Vitalis is a passionate hunter, forager and wild food chef, co-founder of Surthrival, and creator and host of the Outdoor Channel's Wildfed television series, now in its third season.
"Black Walnuts have been growing here wild since the first humans set foot in North America, and they're still wild today. They are incredibly sustainable – they naturally reproduce and continue producing Black Walnuts for over 50 years. "Black Walnuts have been, and always will be, a completely wild, all natural, un-processed product," Vitalis says.
Supporting 'Eco-Culture' and Wild Food Sheds In sourcing its Wild-Foraged Black Walnut Protein Powder from local collectors, Surthrival is supporting what Vitalis refers to as "eco-culture," a more ancient and sustainable alternative to agriculture. "With the right shifts in landscape management, viable wild food sheds that can be maintained on a large scale are possible," Vitalis envisions.
"It's a win-win – as the customer gets a healthy, sustainable wild food, foragers prosper from providing the raw materials. Supporting foragers, companies and suppliers in this way move us toward a newer – or perhaps an older – way of engaging with the landscape for our food needs," says Vitalis. "In doing so, we can create a viable market for a wild food sustainably for decades to come."
"As a naturally available food source, Black Walnuts have a long history of recipes and uses. Indigenous peoples mixed the crushed nuts in breads and puddings. The nutmeats were also an important ingredient in corn soups and several other traditional native dishes. The fresh nuts were crushed and boiled to make a beverage. "There is even a story about a bread recipe the original explorers Lewis and Clark developed in the early 1800s when their expedition traveled through Missouri and Black Walnut country," Vitalis relates.
Black Walnuts: The Highest Protein Content of Any Tree Nut Black Walnuts contain the highest protein content of any tree nut and are an excellent alternative for health-conscious consumers seeking to add more high-quality, plant-based protein to their diet, according to WebMD.
To create its Black Walnut Protein Powder, Surthrival uses an exclusive, ultra-clean CO2 extraction process to draw out the plant-based protein from its wild-foraged, sustainable harvest – with 17 grams of protein per 1⁄4-cup (30g) serving. The company is proud to be the exclusive distributor of this path-breaking product, which it says is the first of its kind.
Surthrival's Black Walnut Protein Powder, available in 16-ounce pouches, comes from wild-grown, North American native Black Walnut trees. Unlike other proteins, Black Walnut is habitat-friendly – no agricultural land is used or irrigation required, since the trees aren't "grown" like traditional crops. Moreover, no fertilizers or toxic chemicals are involved, "only wholesome, healthy, wild nature. It's wild nutrition you can feel great about," says Vitalis.
About Surthrival
Based in Biddeford, Maine, Surthrival was founded in 2008 by LeighLon Anderson and Daniel Vitalis, star of the Outdoor Channel's WildFed, to provide powerful, regenerative nutrients to support peak nutrition and optimal wellness. In addition to its new Black Walnut Protein Powder, Surthrival's products include its best-selling bovine colostrum powder, elk antler concentrate, reishi mushroom extract, Vitamin D3/K2, and CBD for pets and people.
Want to give it a try and save 10%? At checkout use code: PRESSFollow Surthrival on Facebook, Instagram, Twitter and LinkedIn.