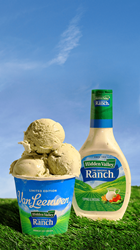 BROOKLYN, N.Y. (PRWEB) March 09, 2023
Van Leeuwen Ice Cream, the nationally beloved brand known for its made-from-scratch dairy and vegan ice cream, has announced the launch of seven new spring flavors to be sold exclusively at Walmart locations nationwide. In honor of National Ranch Day, the launch features an exclusive new ice cream collaboration with Hidden Valley Ranch®, the original and #1 selling ranch brand. The full lineup of new flavors includes Hidden Valley Ranch, Sweet Maple Cornbread, Blood Orange Chocolate Chip, Carrot Cake, Strawberry Shortcake, Honey Graham Cracker and Limoncello Cake.
"We're so excited to debut this new series of flavors and unveil what is possibly our most surprising ice cream yet: Hidden Valley Ranch," said Ben Van Leeuwen, Co-Founder and CEO of Van Leeuwen Ice Cream. "We have done some creative collaborations and can't wait for Walmart shoppers to try this new and exciting flavor along with our other Spring specials."
While ranch ice cream may not be the typical pairing for the popular condiment, the Hidden Valley Ranch x Van Leeuwen flavor delivers a surprisingly tasty twist on the sweet treat. The ice cream boasts the savory flavors of ranch, including buttermilk, flavorful herbs and a touch of sweetness, creating a delicious treat that pairs perfectly with salty snacks.
"We know that Hidden Valley Ranch goes with just about everything – pizza, carrots, French fries – but ice cream is a first for us," said Rachel Garrison, Associate Director at Hidden Valley Ranch. "We are so excited to partner with Van Leeuwen, the expert in limited-edition, premium flavors, to bring together this creamy mix of savory and sweet. Insider tip? Top your scoops with crushed pretzels or potato chips for a perfect salty crunch."
All Spring flavors will be available at 3,500 Walmart stores nationwide to purchase for $4.98. This limited release will only be available March 20 through May 28.
NEW EXCLUSIVE FLAVORS:

Hidden Valley® Ranch: Hidden Valley is more than America's favorite ranch dressing, it's a way of life. It goes with just about everything - pizza, carrots, french fries. But it's never tried to go with ice cream. Until now.
Sweet Maple Cornbread: Who can resist maple ice cream with pieces of honey cornbread? No one that we've met. Well, maybe Joe but he wears white after Labor Day and doesn't love puppies.
Blood Orange Chocolate Chip: This sweet cream ice cream doesn't feature swirls of regular orange, it features swirls of blood orange, which everyone knows is the cool orange. And only the cool oranges are accompanied by dark chocolate chips.
Carrot Cake: Every health expert will say that carrots are good for you. So according to transitive law, carrot cake is good for you. And we never break the law. So this cheesecake ice cream with pieces of carrot cake is good for you. Court's adjourned.
Strawberry Shortcake: The goodness in this flavor includes cold-ground vanilla, jam from Oregon-grown strawberries, and pieces of shortcake. And when there's this much goodness, it's good for you. Probably.
Honey Graham Cracker: What's the best part about a pie? Definitely the crust. That's the only right answer. Especially when the crust is graham cracker. So that's why this makes us happy - brown sugar ice cream with pieces of graham cracker pie crust and swirls of honey.
Limoncello Cake: Nothing makes us happier than this Limoncello Cake Ice Cream. Because we're fancy. And wannabe Italians. And think that lemons don't get their fair share of the spotlight in ice cream. So we added in pieces of sweet brown sugar cake to this bright lemon ice cream. Favoloso!
For more information about Van Leeuwen's new exclusive Walmart flavors and to keep up on all things Van Leeuwen, follow the brand on Instagram @vanleeuwenicecream or visit http://www.vanleeuwenicecream.com. For more from Hidden Valley Ranch, follow the brand @hidden.valley or visit hiddenvalley.com.
About Van Leeuwen Ice Cream
Founded in 2008, Van Leeuwen Ice Cream started out of a yellow scoop truck on the streets of NYC by Ben Van Leeuwen, Pete Van Leeuwen and Laura O'Neill. With a mission to make good ice cream from good ingredients that makes you feel good, Van Leeuwen Ice Cream has innovated beyond the original dairy recipe with vegan ice cream and ice cream bars, unique and eclectic flavors, and more. With 41 scoop shops across the country, Van Leeuwen ice cream is also available for purchase in grocery stores and nationwide shipping. To keep up with everything Van Leeuwen, follow the brand on Instagram @vanleeuwenicecream or visit http://www.vanleeuwenicecream.com.
About Hidden Valley Ranch
Hidden Valley® Ranch is the nation's original ranch dressing brand and was founded in 1954 by Steve Henson. Hidden Valley Ranch has unleashed America's favorite ranch across all mealtime and snacking occasions, offering the bottled Hidden Valley Original Ranch in many varieties and in more forms for fans to enjoy the ranch flavor they love. The Hidden Valley Original Ranch Seasoning and Salad Dressing Mix Shaker is perfect for bringing ranch flavor to weeknight dinners, Hidden Valley Homestyle Ranch Seasoning makes great-tasting restaurant ranch attainable at home, Hidden Valley Ranch Secret Sauce serves up restaurant inspired flavors at home and Plant Powered Hidden Valley Ranch is Dairy Free with the great taste you expect. Hidden Valley Ranch's products can be found in grocery retailers across the country.