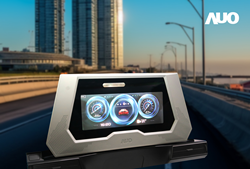 AUO has constantly been improving the company's technological research and development capabilities over the years. As a result, the company has successfully set up a comprehensive Micro LED ecosystem, and Micro LED technology is now ready for widespread commercialization and mass production.
HSINCHU, Taiwan (PRWEB) May 23, 2023
AUO Corporation (AUO) has constantly been improving the company's technological research and development capabilities over the years. As a result, the company has successfully set up a comprehensive Micro LED ecosystem, and Micro LED technology is now ready for widespread commercialization and mass production. AUO is participating in Display Week 2023, a global exhibition for display technologies and companies organized by the Society for Information Display (SID), and will showcase the company's strengths in Micro LED applications. These include transparent, blended, and foldable displays that can be implemented in immersive smart cockpits, foldable screens, Micro LED displays integrating A.R.T.® technology, and other cutting-edge applications. This marks the start of a Micro LED revolution that is taking the world by storm.
Micro LED Technology Ripening through Transparent, Blended, and Foldable Displays:
Technological innovation in displays is driven by consumers' demand for better image quality and greater convenience, and Micro LED is the ideal technology to satisfy these requirements, offering higher resolution, increased brightness, lower power consumption, and enhanced reliability. However, the technological challenges associated with scaling down LEDs to microscopic chip sizes and applying them to driving backplates, as well as the inspection and repair processes involved, are tremendous and costly. As a result, the development of Micro LED display technology is a time-consuming process. In response, AUO has dedicated ten years to intensive research and development, focusing on improving the product yield rate and mastering precise mass transfer technology. The company has also built up a comprehensive supply chain and Micro LED ecosystem. These efforts have led to the development of new display technologies such as transparent, blended, and foldable displays, which have now been introduced to a wide-array of fields and applications.
Among them, futuristic transparent displays are seeing the most widespread use. This year, AUO has successfully overcome design and process hurdles to release the world's highest-resolution 13.5-inch Transparent Micro LED display, boasting a pixel density of 163 ppi, a transparency rate up to 55%, and a high brightness of 5,000 nits, this provides users with high-definition displays infused with a high-tech flavor. AUO is actively expanding its presence in the smart automotive market, which represents infinite possibilities for transparent display applications. High-transparency Micro LED display technologies coupled with LCD display panels are also integrated into digital dashboards in smart cockpits, providing users with comfortable 3D displaying images without having to wear special glasses, and showcasing the self-luminous, low-power-consumption, and high dynamic range qualities of Micro LED. Furthermore, this technology will also lead to groundbreaking developments for augmented reality/mixed reality (AR/MR) systems. AUO's transparent Micro LED display solutions include electrically switchable black switch transparency functions, creating the world's first(*) 17.3-inch Transparent Micro LED Black Switch Notebook Display. Users can toggle their screen between see-through and black with the push of a button, thereby creating user scenarios that had previously been limited to the realm of science fiction.
By taking advantage of Micro LED's high brightness and high contrast features, AUO has deftly combined Micro LED displays with optical film on printed glass cover plates or other structures, thereby, creating displays that feature high brightness and low reflections. Furthermore, the development of blended Micro LED displays allows the decorative panels in vehicles to seamlessly display special patterns and textures, such as marble or carbon fiber. This creates an immersive user experience in smart cockpits. Micro LED displays are also flexible and stretchable, which means they can be cut into unique shapes or affixed to curved surfaces depending on requirements. By integrating TFT driver technology, these panels can make soft, curved, or even foldable displays a reality. AUO will also be showcasing the world's first(*) 14.6-inch foldable display featuring Micro LED technology at Display Week 2023. It features an ultra-thin glass panel, a folding hinge with a radius of merely 4mm, a pixel density of 202 ppi, and the characteristically high brightness and high contrast of Micro LED displays. Even when viewed at a wide angle, these displays are still capable of excellent color and brightness.
Additionally, with the rapid rise of the digital art sector, AUO launches the world's first A.R.T.® technology integrated Micro LED display. Traditional LCDs suffer from issues such as backlight bleed and narrow viewing angles. In contrast, AUO's Advanced Reflectionless Technology (A.R.T.®) and Micro LED boasts key features such as true black displays, high brightness, high contrast, wide viewing angles, and low power consumption. Moreover, ambient light does not produce reflections on the display or interfere with the viewer, its anti-glare, reflectionless, and high scattering features, guarantees the displaying contents can be seen perfectly and clearly in brightly-lit environments. Even unique textures such as diamonds or other jewels can be reproduced in their full brilliance, captivating audiences and creating a unique fusion between technology and art.
World-leading Technologies with Ultra-high Refresh Rates for the Gaming Sector:
Aside from developing advanced display technologies, AUO is also eagerly creating high value-added display technologies such as displays for gamers that featuring the world's first curved display that integrates A.R.T.® display, featuring high refresh rates and resolutions.
At Display Week 2023, AUO will be spotlighting the world's first(*) 18-inch QHD 240 Hz Gaming Notebook Display that features exclusive AmLED™ with QHD design. With a 240 Hz refresh rate and HDR1000, up to 1,000 nits in brightness, this display offers a large size, high contrast, and high color saturation performance. The 16:10 display ratio offers gamers the most immersive visual experience. In order to meet the needs of gamers in strategy games, its 32:9 ultra-wide display with R1000 curved design, feature a 5K resolution, 360 Hz ultra-high refresh rate, native VA contrast ratio of 5000:1, and exceptional precision and smoothness in the on-screen images. Users will enjoy the most immersive gaming and movie-watching experiences. To prevent eye fatigue among gamers, AUO has also integrated A.R.T.® display technology to create the 32-inch 4K 240 Hz A.R.T.® Gaming Monitor Display. Featuring AUO's exclusive reflectionless and low blue light Technology, these displays offer a wide color gamut and high image quality, and are immune to glare from ambient light.
Founded on deep expertise in display technology, AUO integrates innovation into its ecosystem and is committed to creating highly customized vertical markets and developing differentiated products. The company's research and development achievements in advanced technologies have received widespread acclaim. AUO was also selected to present many papers on display technology at Display Week 2023. Many of the papers selected for presentation this year focus on Micro LED technology, once again highlighting AUO's capabilities in research and development as well as the infinite possibilities for the commercialization of advanced technologies.
*Based on the available market research information as of May 22, 2023.