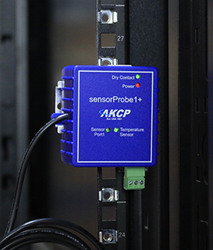 The SP1+ is ideal for monitoring a single cabinet in a server room, or installed on each cabinet of a large data centre" says Jeff Sessions, Marketing manager for AKCP
MOLD, Wales (PRWEB) January 22, 2023
Server Room Environments announces the UK launch of the latest AKCP sensorProbe+ Base Unit
The new sensorProbe+, SP1+ is a compact and powerfulmonitoring solution. Providing instantaneous data logging for a range of environmental factors, automatic alert notifications and comprehensive data analytics when used with AKCPro Server software. The SP1+ can also help server room and data centre operators to optimize their cooling systems and improve energy efficiency.
The AKCP SP1+ is the latest product launched in the sensorProbe+ range. It packs powerful monitoring features into a low-cost, easy to install device. The device package includes a built-in temperature sensor on a 1.5m cable, an additional intelligent sensor port and dry contact terminal interface for £195.00 plus VAT.
The intelligent sensor port connects with an additional AKCP sensor for humidity, water leakage, smoke, airflow, AC mains or DC battery power availability, or the amount of current in Amps flowing through a power cord. When utilized with the AKCP sensor splitter box monitoring of up to 12 sensors provides a comprehensive overview of a server cabinet This includes: Thermal mapping sensors log temperature at the top, middle, bottom, front, and rear of a rack, the Delta-T, front/rear humidity, and current consumption. "The SP1+ is ideal for monitoring a single cabinet in a server room, or installed on each cabinet of a large data centre" says Jeff Sessions, Marketing manager for AKCP.
The AKCP SP1+ comes with a free 1-year subscription to the AKCPro Server Cloud for up to 4 units per company. AKCPro Server provides centralized monitoring custom desktops, graphing connected sensors, 3D mapping, and sensorCFD, a data centre airflow modeling tool that is used to identify the cooling airflow path. It helps identify issues such as the mixing of hot and cold path returns, overcooling and inefficient use of hot and cold aisle arrangements.
The dry contact terminal provides digital I/O (inputs/outputs) for third party devices or connections such as a door contact. The AKCP SP1+ is PoE powered but can use an AC mains source to provide power source redundancy.
The AKCP SP1+ runs the same software and user interface as other models in the sensorProbe+ range. Onetime licensed features include up to 80 virtual sensors (5 included for free), SNMPV3, IPV6, Radius, Tacacs, Modbus TCP/IP, MQTTS, and more.
The AKCP SP1+ is available from Server Room Environments for £195.00 ex VAT. Server Room Environments also provide a site survey and installation service.
More information:
https://www.serverroomenvironments.co.uk/akcp-sensorprobe-sp1+-environment-monitors
About Server Room Environments and AKCP
Server Room Environments are specialists in the design, installation, and maintenance of critical systems to protect data centres, server rooms, comms rooms and IT networks. The company is the main distributor and stockist for AKCP products in the UK.
More information: http://www.serverroomenvironments.co.uk
Elton Jones, Marketing Manager
Tel: +44-(0)1352 836 038
Email: marketing@serverroomenvironments.co.uk
AKCP established in the USA in 1981, has 40+ years of experience in professional sensor solutions. AKCP created the market for networked temperature, environmental and power monitoring in the data centre. Today with over 150 employees and 200,000 installations, AKCP is the world's oldest and largest manufacturer of networked wired and wireless sensor
solutions.
More information: http://www.akcp.com
Nicholas Barrowclough, President
Email: nicholas.barrowclough@akcp.com