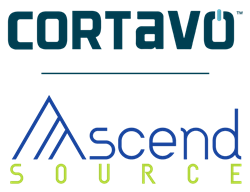 This will be a great win for Ascend Source.
ATLANTA (PRWEB) January 06, 2023
Cortavo proudly announces their recent selection by Ascend Source to provide cybersecurity, service desk support and standardize their internal communications. With these new changes in place, Ascend Source will be able to hand off their IT growth challenges to Cortavo while they focus their time and attention on their clients.
Through discussions with Ascend Source COO Lauren Reinhertz and Executive Assistant Marianne Nurmi, it became clear to Cortavo's IT team that a growing business like Ascend Source began facing the need to scale their infrastructure. Furthermore, as Ascend Source must frequently relay sensitive customer information across their organization, enhancing cybersecurity became imperative as well. The best fit for Ascend Source was Cortavo's Productivity plan, which provided all these necessary features, backed by unlimited service desk support. Cortavo's Productivity plan will consolidate all IT efforts at Ascend Source, stabilize their costs and free up their time to ensure a more seamless, secure and productive work environment.
"As Ascend Source grew, so did our technology needs, especially being an 100% remote organization," said Lauren Reinhertz, Chief Operating Officer. "We chose Cortavo to help us manage our computer fleet, security and support. Cortavo will give us the scale and expertise our business requires."
"This will be a great win for Ascend Source," stated Tiffany Bloomsky, President of Cortavo. "Despite being a good problem to have in some respects, growth itself remains a common IT challenge. Fortunately, Ascend Source has proactively gotten out ahead of these challenges by opting for managed IT."
About Ascend Source
After years of experience within the SAP channel, the founders of Ascend Source identified a gap in the SAP Partner Ecosystem. While partners were focused on the delivery of deals sold, building a sustainable relationship with SAP was often overlooked. Ascend Source built a compelling model that enables SAP partners to grow their business by becoming more strategic and a true value-add to SAP in partnership with Ascend Source. This model allows SAP AEs to strengthen their position within their accounts by leveraging partner successes and reference customers, thus creating repeatable wins for both partners and SAP. For more information, visit Ascend Source at https://ascend-source.com/.
Connect with Ascend Source on social media:
LinkedIn: https://www.linkedin.com/company/ascendsource/about/
Twitter: https://twitter.com/AscendSource
About Cortavo
Cortavo is the only all-inclusive managed IT solution providing unlimited service desk support, cybersecurity, internet connectivity, cloud data storage, computer hardware and software necessary to manage small to medium-sized business technology needs at a flat monthly fee. Cortavo is based in Atlanta, GA and supports thousands of small business employees throughout the southeastern United States. For more information about Cortavo and its services, visit http://www.Cortavo.com.
Connect with Cortavo on social media and online:
LinkedIn: https://www.linkedin.com/showcase/cortavo/
Twitter: https://twitter.com/cortavo
Facebook: https://www.facebook.com/CortavoByAventisSystems/
G2: https://www.g2.com/products/cortavo/reviews
Clutch: https://clutch.co/profile/cortavo#summary