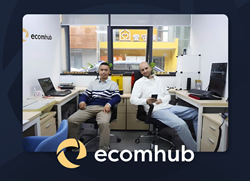 FBA Academy has been revamped - included in this new and improved course is the tried and true FBA Academy, comprehensive online support, one-on-one mentorship with Amazon FBA coaches, and bonus courses such as "Building Invincible Products" and "Finding a Great Virtual Assistant."
CHICAGO (PRWEB) January 10, 2023
EcomHub helps new and seasoned Amazon sellers create highly-profitable stores online to generate wealth and experience financial freedom. The newly launched FBA Academy offers more support and content than ever before.
E-commerce is the dominant retail space. Malls are dying, brick-and-mortar stores are struggling - but online shopping is growing fast and growing strong. When EcomHub came onto the scene, Amazon was still in its beginning stages. Now? Amazon is crushing all competition and taking over the online retail space. The EcomHub FBA Academy provides reliable training materials and professional mentorship opportunities to help any hard-working entrepreneur succeed with an Amazon FBA store.
Since its founding, EcomHub has existed to empower entrepreneurs with the skills necessary for success in e-commerce. There are plenty of online training programs; the problem is that digital content tends to expire before it's even published. So EcomHub decided early on that they would fight to stay relevant and provide relevant content - year in and year out. They proudly provide "evergreen updates'' to all customers, ensuring that any content they improve or add to their services will be available to existing (or previous) customers - free of charge.
Now, the FBA Academy has been revamped with more content than ever before. Included in this new and improved course is the tried and true FBA Academy, comprehensive online support, one-on-one mentorship with Amazon FBA coaches, and bonus courses such as "Building Invincible Products" and "Finding a Great Virtual Assistant."
Students can enroll in the baseline FBA Academy for a huge wealth of resources and support along the Amazon FBA journey, or upgrade to the Pro Package for one-on-one mentorship and more hands-on training. The EcomHub team has an amazing group of e-commerce experts and provides all their Pro and VIP students with a personal Amazon seller coach to assist them along the way.
EcomHub also offers a VIP Experience where the team goes beyond mentorship to help find students a product and helps to oversee the entire launch process. All three packages are excellent options for new sellers looking for professional guidance as they jump into the e-commerce industry.
The EcomHub team has grown considerably over the past three years, with coaches in nearly every time zone and a newly installed office in China to assist hands-on with product development and sourcing for Amazon. This office allows EcomHub to build relationships with reliable manufacturers and get samples faster.
Additionally, they now have their own photography studio in China to save clients precious time by providing graphic assets quickly and efficiently - no need to wait for international shipping. As they grow, they continue to upgrade the content available to their clients with the freshest information available.
EcomHub is quickly becoming the authority in e-commerce training. They are passionate, informed, and professional. Their latest developments allow them to provide best-in-class training with the FBA Academy, and assistance every step of the way - including Amazon FBA sourcing and coaching. This latest product launch is an exciting new opportunity for anyone interested in getting their start on Amazon.
You can find details on the brand-new FBA Academy and the Pro and VIP packages here https://ecomhub.com/fba-academy
ECOMHUB, LLC.