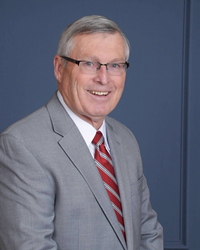 Advize is extremely excited to add Jim to our growing Best-in-Class team of SMEs, and will be a great compliment to our team.
WINTER PARK, Fla. (PRWEB) January 06, 2023
Advize Health LLC, (Advize) a leading healthcare advisory and consultancy in the fraud, waste, abuse (FWA), compliance and payment integrity space, continues to enhance and expand its team of Best-in-Class subject matter experts (SME) with the addition of James "Jim" Cox to its consulting and advisory team.
Jim comes to Advize following a successful career in both federal and state government leadership roles. Jim worked as an auditor at the US Department of Health and Human Services, Office of Inspector General (HHS-OIG) as an auditor, senior auditor, and Regional Inspector General for the Office of Audit Services (OAS). In those increasingly responsible roles, Jim conducted, managed, and ultimately supervised a team of auditors conducting the full range of audits in the Medicare, Medicaid, and overall healthcare space, as it related to the Centers for Medicare and Medicaid Services (CMS) programs. Jim is highly recognized for his expertise in these areas.
Following his retirement from HHS-OIG, Jim served as the New York State OMIG Director. Being responsible for the overall direction of Medicaid audits and investigations, Jim is considered a leading national expert in all aspects of Medicare and Medicaid payment integrity.
Jim will be consulting with Advize's clients and our internal teams in various payment integrity areas, as well as working to communicate best practices across our current and future clients in the Medicare and Medicaid space. Advize is extremely excited to add Jim to our growing Best-in-Class team of SMEs, and will be a great compliment to our team of retired OIG Special Agents, Assistant Special Agents in Charge, Special Agents in Charge, Unified Program Integrity Contractor (UPIC) Directors and other experts.
Advize Health provides a full suite of services to healthcare organizations of all sizes, from government entities to commercial payers, group practices, hospitals, and clinics. Focused on reducing the cost of healthcare and improving the quality of delivery, our client approach is uniquely straightforward and effective. We hire and manage the subject matter experts (SMEs) to provide the best for our clients without having the marked-up price of our competitors. We have strong legal experience and are called upon to provide guidance on managing Special Investigation Units, creating work plans and providing expert guidance to our clients who consider Advize a partner rather than a vendor.
###
If you would like more information about this topic, please call Jeanmarie Loria at 407-583-7379.