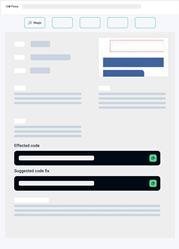 With this cutting-edge technology, the possibilities are endless. We can't wait to see the impact Flowy will have on the industry and the lives of people with disabilities
HERZLIYA, Israel (PRWEB) January 05, 2023
Equally AI, a tech provider of web accessibility solutions, has announced the launch of Flowy. Powered by ChatGPT, Flowy is a game changer for innovative developers looking to build web products that are accessible and for website owners globally to improve web accessibility for all in the content they serve online.
"At Equally AI, we believe that accessibility should be a fundamental part of every web product," said Ran Ronen, Co-founder and CEO, Equally AI. "With Flowy, we've automated the process of accessibility compliance, making it super-fast, scalable, and cost-effective. Developers can now create truly innovative products without worrying about the technicalities of accessibility."
One of the key features of Flowy is its recommendation engine, which provides developers with suggested code fixes to easily address accessibility issues. This helps developers ensure the quality of their product at every stage of the development process with minimal effort. Ultimately this empowers website owners from global brands to SMBs to improve web accessibility for all.
Accessibility headaches end with Flowy, the all-in-one platform that helps developers ensure the accessibility of their web products. With proprietary technology and features like providing recommendations, guides, explanations, and creative solutions for implementing necessary changes, Flowy streamlines the entire accessibility testing process. Developers can easily scan and categorize accessibility issues, prioritize and address them, and access regular monitoring and compliance reporting to ensure that their products are compliant 24/7 and avoid legal risks for not providing web accessibility for all. Flowy saves developers time, energy, and money while helping them build innovative, accessible products that will empower how websites will operate in better accessible ways for all users.
"We are excited to see what developers will create with Flowy," said Dani Zeevi, Chairman of the Board, Equally AI. "With this cutting-edge technology, the possibilities are endless. We can't wait to see the impact Flowy will have on the industry and the lives of people with disabilities."
Flowy is currently available only by request. Developers who don't want to miss out on the opportunity to revolutionize the way to build accessible web products should visit https://bit.ly/Equally-ai-flowy for more information and to gain access.
To learn more about Equally AI, please visit http://www.equally.ai.