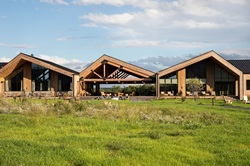 "We are thrilled to offer our guests this unique opportunity to experience New York City's beloved Gramercy Tavern while visiting the resort," says Manolo Sorensen, general manager, Wildflower Farms, Auberge Resorts Collection
GARDINER, N.Y. (PRWEB) January 09, 2023
The Hudson Valley's hottest new resort and culinary destination, Wildflower Farms, Auberge Resorts Collection, has partnered with Gramercy Tavern's James Beard award-winning Executive Chef Michael Anthony to host an exclusive culinary experience with the resort's Executive Chef Rob Lawson over January 27-28, 2023. Part of Auberge Resorts Collection's Taste of Auberge program, the immersive weekend will include unforgettable epicurean events and exceptional new menu items at the resort's signature restaurant, Clay. Chefs Lawson and Anthony have curated special dinners and events that highlight the intersection of tastes, sounds and aesthetics of both restaurants. The collaboration will forge a connection between the cuisines of New York City and the Hudson Valley by celebrating both Clay's vegetable-forward, New-American fare and Gramercy Tavern's contemporary, downtown edge, providing guests and locals with a one-of-a-kind destination-specific dining experience.
"We look forward to welcoming the esteemed Chef Michael Anthony to our new dining destination," says Manolo Sorensen, general manager, Wildflower Farms, Auberge Resorts Collection. "We are thrilled to offer our guests this unique opportunity to experience New York City's beloved Gramercy Tavern while visiting the resort. The restaurant's commitment to using fresh, seasonal ingredients perfectly complements the focus of our culinary program, which creates stunning dishes that celebrate the local bounty native to the region."
A New York institution, Gramercy Tavern has long been respected for its ongoing commitment to using fresh, seasonal ingredients and for continually pushing to discover and innovate. At the helm of the restaurant for the last 16 years is Executive Chef Michael Anthony. Anthony, a thoughtful, cerebral culinary mastermind with a sophisticated approach came to Gramercy Tavern via Tokyo, Paris, and then New York, where he gained valuable experience at revered restaurants such as Blue Hill at Stone Barns and Daniel.
"I am excited to bring a taste of NYC and Gramercy Tavern to the Hudson Valley," shared Chef Anthony. "My team and I are looking forward to cooking alongside Executive Chef Lawson to create an immersive experience for the Wildflower Farms and Hudson Valley community. The menus at our restaurants are heavily influenced by using fresh and locally sourced ingredients, and we plan to have a lot of fun tasting, cooking, and highlighting the region together."
The weekend events will kick off with a special a la carte menu on Friday evening, curated by Chef Anthony, that will be offered alongside the Clay dinner menu. Attendees can immerse themselves in his signature dishes made with ingredients from the property's local purveyors and farm, including cauliflower and kabocha squash curry, roasted chicken and potato dumpling, and sunchoke chowder with monkfish. On Saturday afternoon, Maplehouse, the resort's cooking school and farm education center, will host a chef demonstration led by Chef Anthony. Guests will enjoy an interactive lunch, where they'll learn how to ferment vegetables and make vegetable-forward dishes, such as cabbage and leek gyoza and carrot and mustard green stuffed egg crepes. The produce used will combine unique varieties of vegetables grown on-site with other local produce from Norwich Meadows Farm to highlight the very best in the region. NOFA's Farmer of the Year, Zaid Kurdieh, has bestowed his expertise, advising on seasonal offerings for the menu and helping with the farm education during the class. That evening, Clay will host a pre-fixe dinner experience, curated between Chefs Lawson and Anthony. Delight in dishes like the Broken Pork, a unique twist on Clay's signature broken beef dish, featuring Wildflower Farms pork, black butter potato, and head cheese ravioli, alongside a highly-curated wine pairing led by the resort's Wine Director Vanessa Price.
Wildflower Farms, Auberge Resorts Collection will welcome chef Michael Anthony from January 27-28, 2022. Both hotel and non-hotel guests are welcome to attend either Friday or Saturday night dinners by calling the resort or booking directly on Clay's Resy page. The cooking class is only available to those who purchase the 'Flavors of the Farm | A Weekend with Michael Anthony' package, which includes two nights of accommodations, the cooking class for two, and access to the Saturday prix fixe dinner for two. The rate for the bundle package inclusive of all Saturday events starts at $3,450+ tax and gratuity.
For more information or to book a stay, please visit aubergeresorts.com/wildflower-farms.
About Wildflower Farms, Auberge Resorts Collection
Sprung from the site where a fallow tree nursery once stood, Wildflower Farms, Auberge Resorts Collection is an oasis within reach just 90 minutes from New York City in the storied Hudson Valley. The 140-acre resort is designed to provide meaningful encounters with nature at every step, fueled by a namesake farm with orchards, heirloom gardens, farm animals, meadows of native flowers and unique one-of-a-kind experiences. A three-mile walking trail connects the farm to all elements of the property—from the 65 stand-alone cabins, cottages and suites, the main building, fitness and movement studio, and a wood joinery barn home to a dynamic cooking school, Maplehouse. The Shop welcomes guests to the resort with an adjacent open-air Great Porch, source-origin cuisine at the centerpiece restaurant, Clay, and wild-crafted wellness at Thistle, An Auberge Spa. Wildflower Farms, Auberge Resorts Collection also offers nearby access to the outstanding beauty of Mohonk Preserve, a private reserve known for hiking, biking and world-class rock climbing.
For more information: aubergeresorts.com/wildflower-farms
Follow Wildflower Farms on Instagram @WildflowerAuberge
About Auberge Resorts Collection
Auberge Resorts Collection is a portfolio of extraordinary hotels, resorts, residences and private clubs. While each property is unique, all share a crafted approach to luxury and bring the soul of the locale to life through captivating design, exceptional cuisine, innovative spas, and gracious yet unobtrusive service. With 22 one-of-a-kind hotels and resorts, Auberge invites guests to create unforgettable stories in some of the world's most desirable destinations.
For more information: aubergeresorts.com
Connect with Auberge Resorts Collection on Facebook Twitter and Instagram @AubergeResorts and #AlwaysAuberge
About The Friedkin Group
The Friedkin Group is a privately-held consortium of automotive, hospitality, entertainment, sports and adventure companies. These organizations include: Gulf States Toyota, GSFSGroup, US AutoLogistics, Ascent Automotive Group, Auberge Resorts Collection, AS Roma, Imperative Entertainment, 30WEST, NEON, Diamond Creek Golf Club, Congaree and Legendary Expeditions. The Friedkin Group is led by Chairman and CEO Dan Friedkin. For more information, visit http://www.friedkin.com.
Media Contact
Murphy O'Brien Public Relations
wff@murphyobrien.com
###