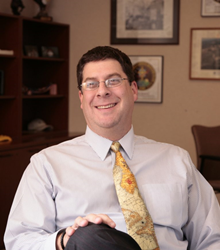 "We are absolutely thrilled to have Keith join our board. Keith has been a trusted advisor for Cognitive Space for the past 2 years and has provided invaluable insights into the workings of the government and the landscape of the space industry. " - Guy de Carufel, Founder & CEO, Cognitive Space
HOUSTON (PRWEB) January 10, 2023
Mr. Keith J. Masback is a longstanding authority on geospatial intelligence with over 30 years of experience in related fields. For over a decade he was the President and CEO of the United States Geospatial Intelligence Foundation, and during his time as a government executive he served as Director of the Source Operations Group at the National Geospatial-Intelligence Agency, and Director of ISR Integration for the US Army. He has served as member and chairman of myriad government advisory committees shaping national geospatial and remote sensing policy. In addition to being a prolific angel investor, Keith provides strategic counsel to a broad portfolio of leading-edge startups regarding product-market fit, go-to-market planning & execution, founding team mentoring, and relationship building.
"I feel remarkably privileged to join the Cognitive Space Board of Directors at such a pivotal time in the company's journey," said Masback. "Recognizing that space is rapidly becoming more crowded and contested, the status quo won't suffice. The world class team at Cognitive Space is creating a uniquely important contribution to the future of space operations, and I'm absolutely committed to being integral to that effort."
When asked about this appointment Guy de Carufel, Founder and CEO of Cognitive Space, said: "We are absolutely thrilled to have Keith join our board. Keith has been a trusted advisor for Cognitive Space for the past 2 years and has provided invaluable insights into the workings of the government and the landscape of the space industry. His genuine, helpful nature, candor and clear understanding of the problem we are solving will be invaluable to the success of Cognitive Space. I feel blessed and fortunate to have met Keith and am honored for him to join our team as a new Board member."
Headquartered in Houston, Cognitive Space is the market leader in AI/ML-driven satellite mission operations. Our goal is to enable evolution of satellite operations at scale through effective and dynamic constellation management. The company's flagship CNTIENT® platform allows commercial space operators and government operation centers to optimize and tailor remote sensing mission planning, scale without disruption, and automate payload scheduling, link management, bus management, and prioritized tasking. More information is available at cognitivespace.com.