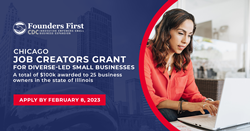 We are excited to bring Illinois a $100,000 business grant fund to be awarded to 25 diverse-led businesses across the state of Illinois.
CHICAGO (PRWEB) January 11, 2023
Founders First CDC (Founders First), a national 501(c)(3) non-profit organization that empowers expansion in diverse founders leading revenue-generating businesses has opened their Chicago Job Creators Quest Grant application today and it will remain open through February 8, 2023.
Twenty-five grants totaling $100,000 will be awarded to diverse-led companies with:

A staff of 2-20 employees
The ability to add 1-2 net new premium wage jobs in the next 12 months
A Founder who identifies as Black, Indigenous, a person of color, LGBTQIA+, Military Veteran, a woman or located in a low to moderate-income area
A for-profit company with annual revenues between $100,000 to $3 million.
"For the third year in a row, we are excited to bring Illinois a $100,000 business grant fund to be awarded to 25 diverse-led businesses across the state." said Shaylon Scott, Executive Director of Founders First CDC. "We bring this grant to those diverse founders working hard to grow their business and develop their leadership. As a minority business owner who is underrepresented in the ranks of business leadership, it can be difficult to gain access to capital to help grow their business. With this issue in mind, we want to provide that access to funding to those founders pushing through with our annual Chicago Job Creators Quest grant"
"Our support of Founders First and the Job Creators Quest Grant program is part of our deep commitment to supporting entrepreneurs of color in our hometown of Chicago," said John Balbach, Director, Impact Investments at the MacArthur Foundation. "Programs like this offer a powerful opportunity to fight racial injustice and build a more equitable future in Chicago and beyond."
The purpose of the Job Creators Quest Grant is to help diverse-led business owners create premium-wage jobs throughout the state of Illinois. Founders First CDC aims to retain and grow the workforce as we emerge from the pandemic and amid threats of an economic recession. This will help to positively impact the local economy, create jobs with higher wages and provide the human capital needed for businesses to grow and expand. This grant project was launched in early 2021. Since launching, Founders First CDC has awarded more than $595,000 to minority and underserved business owners throughout the United States with a focus on 6 regions that include Texas, Chicago, Southern California, Philadelphia, New Jersey and the Twin Cities.
"Small Business Majority is honored to partner on the announcement of the Founders First 2023 Chicago Job Creators Quest Grant," said Tasha Brown, Midwest Director, Small Business Majority. "We are happy to support this grant and the 25 diverse-led small businesses in Illinois who will now have the opportunity to take their business to the next level using the $100,000 awarded."
Funding for this program was facilitated by a $1 million national grant from the Rockefeller Foundation and in conjunction with Founders First Capital Partners' recent $9 million Series A financing accelerator to support underrepresented entrepreneurs in underserved communities across the country.
"Workbox is proud to support all our diverse members and broader community of Founders across the state of Illinois," said Samantha Schwartz, Director of Business Services at Workbox. "Entrepreneurs of color have been marginalized and under-resourced, fueling our passion to partner with the 2023 Chicago Job Creators Quest grant's mission to fund the diverse Founders of Illinois."
Additional national and regional partners include World Business Chicago, Newity, Kerosene Ventures, Small Business Majority, Clarke Public Accounting, Charma Capital, Andersonville Chamber of Commerce, Asian American Chamber of Commerce, North River Commission, Women Business Collaborative, WBDC, StartOut, Jellyneck, Chicagoland Chamber of Commerce, Corp Coalition, Bunker Labs, Workbox, Center For Changing Lives, Chinese Mutual Aid, Verve Credit Union, HispanicPro, AllRise Legal, National Black MBA, and many more.
Qualified business owners may visit foundersfirstcdc.org/chicago/ to apply for the grant.
### About Founders First CDC Founders First CDC is a not-for-profit 501(c)3 that was founded in 2015 and has received significant support from the regional community reinvestment banks to empower diverse founder-led, revenue-generating small businesses through three primary programs: (1) Founders Challenge; (2) Founders Bootcamp; and, (3) Founders FastPath. By building recurring revenues, tech-enablement, and essential solution focus, Founders First serves as a catalyst for positive change to entrepreneurs of color and female founders to become leading employers in their communities. http://www.foundersfirstcdc.org