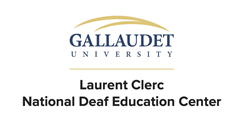 WASHINGTON (PRWEB) January 10, 2023
The Laurent Clerc National Deaf Education Center (Clerc Center) at Gallaudet University announced this week the public launch of the Clerc Center Online Community, a unique online resource center advancing the education of deaf children and young adults.
The Clerc Center Online Community, now open to the public, is a direct extension of the Clerc Center, a federally-funded national deaf education center, and supports its mission to ensure that the diverse population of deaf and hard of hearing students from birth through age 21 in the nation are educated and empowered to maximize their full potential as productive and contributing members of society.
The Online Community is designed to serve multiple audiences including parents and families with deaf and hard of hearing children, early childhood interventionists and development specialists, educational professionals, and healthcare providers. Its goal is to serve as a supportive community and the leading centralized hub where families and deaf education professionals can network with one another and secure expert resources and informed choices for their ongoing work with deaf children.
The Online Community includes resources to go; online training and learning; networking with others; live events; and ongoing support. Among the many resources visitors can find at the Online Community are several learning modules, including Advocacy for Your Child; Fifteen Principles for Reading to Deaf Children; Multilingual Families and Homes; and K-12 ASL Content Standards.
Since its founding in 1969, the Clerc Center (formerly Gallaudet University's Pre-College National Mission Programs) with its two model and demonstration schools, the Kendall Demonstration Elementary School (KDES) and the Model Secondary School for the Deaf (MSSD), has served as a leading institution in best practices for the advancement of deaf education in pre-college settings.
"We are very pleased to officially launch the Clerc Center Online Community to the public," said Marianne Belsky, the Chief Academic Officer of the Clerc Center. "The Online Community meets a longstanding need for a centrally accessible site where families and professionals alike can go to take advantage of the Clerc Center's deep portfolio of resources and expertise in deaf education. They will also find resources from partnering organizations that the Clerc Center works with to encourage growth and advancement of excellence in deaf education."
Nicole Sutliffe, the Chief Administrative Officer of the Clerc Center, added, "We know that still today many parents, families, and educators are wanting and looking for guidance on how to support their ability to provide the very best in deaf education for their students and children. We are very excited that starting today, we now have the perfect home to deliver this to our allies throughout the U.S. and beyond."
About the Clerc Center
The Laurent Clerc National Deaf Education Center (Clerc Center) at Gallaudet University is a federally funded center with exemplary elementary and secondary education programs for deaf and hard of hearing students and is tasked with developing and disseminating innovative curricula, instructional techniques, and products nationwide while providing information, training, and technical assistance for parents and professionals to meet the needs of deaf and hard of hearing students from birth to age 21. More information about the Clerc Center can be found at http://clerccenter.gallaudet.edu/
Media Contacts:
Tyrone Giordano, Director of Communications, Clerc Center
tyrone.giordano@gallaudet.edu / 202-572-9213
Robert B. Weinstock, Senior Public Relations Manager, Gallaudet University
robert.weinstock@gallaudet.edu / 202-250-2411