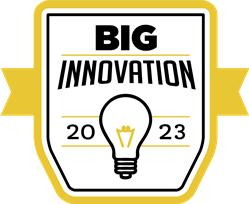 "Innovation is the lifeforce for many organizations as the world and our culture continues to evolve. "We are honored to award these executives, companies and products the BIG Innovation award this year."
PHILADELPHIA (PRWEB) January 11, 2023
Today, the Business Intelligence Group named 11 executives, 55 companies, and 91 products as leaders and winners of the 2023 BIG Innovation Awards. This annual business awards program recognizes organizations, products, and people that are bringing new ideas to life in innovative ways.
"Innovation is the lifeforce for many organizations as the world and our culture continues to evolve," said Maria Jimenez, chief nominations officer of the Business Intelligence Group. "We are honored to award these executives, companies and products the BIG Innovation award this year."
Organizations from across the globe submitted their recent innovations for consideration in the BIG Innovation Awards. Nominations were judged by a select group of business leaders and executives who volunteered their time and expertise to score submissions.
The 2023 BIG Innovation Award winners are listed below:
Individual Winners

Anita Allemand, PharmD, Chief Transformation and Integration Officer, Walgreens Boots Alliance
Lorraine Barber-Miller, EVP and Chief Marketing and E-Commerce Officer, Philips
Kevin Dallas, Wind River
Kelly Feist, Managing Director, Ascom Americas
Fred Figueiredo, Director of Business Agility, Sage
Jeffrey Glass, CEO, Hometap
Andrew Isherwood, Invafresh
Chelsea Phillips, Anheuser-Busch
Tim Reeser, CEO and Founder, Lightning eMotors
Christiaan van der Valk, Vice President for Strategy, Sovos
Jake Williams, VP of Cyber Threat Intelligence, SCYTHE
Winning Organizations

Accuhealth Technologies - Technology
Applied Systems - Insurance
ARRIS - Manufacturing
Beans.ai - Technology
Beeyonder - Transportation & Travel
Bevi - Food and beverage
Boost Payment Solutions - Financial
Building Engines, a JLL company - Technology
Canary Medical - Healthcare
Cargill - Food and beverage
COCC - Technology
Copyleaks Inc. - Education
Creative Artists Agency - Other
Dazz - Technology
Filecoin Foundation - Technology
Folio Photonics - Technology
Footprint - Engineering
Fortanix - Technology
GPS Insight - Technology
Gravyty - Technology
Guardian Bikes - Consumer Goods
Highline Technologies - Financial
Hiro Systems - Financial
HopSkipDrive - Education
Iterate.ai - Technology
Lexipol - Technology
Lightning eMotors - Automotive
Matterkind, Outcome Navigator - Other
Menlo Micro - Energy
ModMed - Healthcare
Moove - Financial
Octane® - Technology
Oncor - Energy
P2S Inc. - Engineering
Paycom - Technology
Paytronix Systems, Inc. - Technology
Pixis Drones - Technology
PowerSchool - Education
Prof Jim Inc. - Education
Ranpak - Manufacturing
Recursion - Biotechnology
REDYPER by DYPER - Technology
RideCo - Transportation & Travel
rooom.com Enterprise Metaverse Solutions - Online
Stord - Other
StreamSets, a Software AG company - Technology
Synechron PayTech Accelerators - Technology
Toshiba Global Commerce Solutions - Technology
Vision Group - Technology
Vital Energy - Energy
Wejo - Automotive
Welldoc® - Healthcare
Wheels Donlen - Automotive
Wilbur Labs - Other
WorkForce Software - Technology
Winning Products
Acer Aspire Vero - Technology

ADP Candidate Relevancy - Technology
AdTheorent - Technology
Agiloft CLM - Technology
Agilysys PanOptic Kiosk - Food and beverage
ALTR - Technology
AP Audit Tools by Strategic Audit Solutions - Financial
ARRIVEnow - Transportation & Travel
Astera Data Stack - Data Management
Axalta Aqua EC Flex – Broad bake Electrocoat - Automotive
Blubrry Podcasting - Technology
Blue Stream Fiber's Hot Home Program - Telecommunications
canturioTE - Healthcare
Capgemini's Digital Avatar solution - Other
CData Connect Cloud - Technology
CEL-FI SOLO RED - Telecommunications
ChronicX - Technology
Clari's Revenue Platform - Technology
CSG Encompass - Telecommunications
DataProphet Operations (Pty) Ltd - Manufacturing
Datasite® - Financial
Dow™ DEXCARE CD-1 Polymer - Other
Dow™ DOWSIL EC-8425 Electrically Conductive Adhesive - Manufacturing
Dow™ DOWSIL TC-5550 Thermal Conductive Compound - Manufacturing
Dow™ LuxSense™ Silicone Leather– Manufacturing
Dow™ Paint Vision - Manufacturing
DrFirst's SmartRenewal - Healthcare
DZS XCelerate/DZS Velocity V6 system - Telecommunications
EchoShip - Transportation & Travel
eClerx Roboworx - Technology
EDGYneer - Edge Device Management Solution - Technology
Equity Resource Hub created by TD Lab, a division of TD Bank Group - Financial
Exo Works - Healthcare
Experian Go - Financial
Faculty Information System and Teaching Assignment Management System - Technology
FalconX 360 - Financial
FlexScreen Automated Manufacturing Line - Manufacturing
Flock Freight - Technology
Fluree Sense - Technology
FlyFin - Financial
Green Button Go Orchestrator - Technology
Halo Collar - Consumer Goods
hear.com horizon AX hearing aids - Healthcare
hear.com Tele-Audiology - Healthcare
Hewlett Packard Enterprise Frontier Supercomputer - Technology
HyperSense AI - Telecommunications
IDLive Doc - Technology
IntelliTrans Global Supply Chain Visibility System - Technology
Invafresh Fresh Retail Platform (FRP) - Technology
Jscrambler Webpage Integrity (WPI) - Technology
Juniper Networks AI-driven SD-Branch - Telecommunications
Lattice Avant Platform - Technology
LeanTaaS's iQueue Suite - Healthcare
Lenovo ThinkPad X1 Fold - Technology
LucidID - Technology
Marketron REV - Technology
Merit International, Inc. - Education
Navisite SAP Services for Cannabis - Technology
Nice Enlighten AI - Technology
Onit - Technology
Oral-B iO - Consumer Goods
Orchid Safety Release Valve - Healthcare
PAVE - Automotive
Paychex Voice Assist - Technology
Pepsi Label-free pack design - Food and beverage
Planful:Predict - Financial
OncoHost's PROphet® Platform - Healthcare
Prosimo AXI Platform - Technology
Pure Sine Wave Gaming UPS - Manufacturing
Renee, the first-ever digital personal health assistant - Healthcare
SAIC's Counter Unmanned Aerial Systems (CUAS) - Technology
Sama (Labeling) - Technology
Second Nature AI - Technology
Simplify Healthcare Service1 - Technology
Snowplow BDP - Technology
Sophie - your little HR friend - Technology
StarRocks 2 - Technology
TaskUs AI Services - Technology
The SolarWinds Next-Generation Build System - Other
Token Ring - Technology
Venus-224 - Healthcare
Verisk's Respond MAP - Insurance
Veritone Voice - Technology
Vertafore Commercial Submissions - Insurance
Wasabi Cloud Sync Manager - Technology
Web.com eCommerce Builder - Technology
WISERTECH - WOX - Technology
Wolters Kluwer iLien Motor Vehicle - Financial
Wolters Kluwer Enablon Vision Platform - Technology
Yext Support Solutions - Technology
Zonar OnRoute - Transportation & Travel
For more information about the BIG Innovation awards, visit http://www.bintelligence.com/big-innovation-awards/.
About Business Intelligence Group http://www.bintelligence.com
The Business Intelligence Group was founded with the mission of recognizing true talent and superior performance in the business world. Unlike other industry award programs, these programs are judged by business executives having experience and knowledge. The organization's proprietary and unique scoring system selectively measures performance across multiple business domains and rewards those companies whose achievements stand above those of their peers.