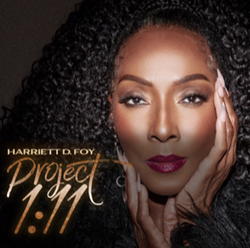 "The number one signifies the birth of new beginnings, and the number 11 is a master number with powerful vibrations," Foy explains. "Project 1:11 represents the rejuvenation of spirit. We want you to dance, be free…remember what gives you joy and own your power!"
NEW YORK (PRWEB) January 11, 2023
Actress Harriett D. Foy, known best for her role as the villainous Pastor Patrice Woodbine on the STARZ hit series P-Valley, is releasing Project 1:11, her debut House music EP on January 11 (1/11). Project 1:11 is an homage to the reinvigorating energy of House and Dance music of the 80s and 90s and the musicians and legendary ballroom houses that embodied the freedom that House music inspires.
This high-energy four-song anthology includes the previously released singles "LaDida" and "Glow" and two new singles, "Love Navigation," and the aptly titled "Homage to House." The themes of freedom, the spirit of life, celebration, and owning individual and collective power are threaded throughout the project, making it relatable and enjoyable to a wide base of music lovers.
"The number one signifies the birth of new beginnings, and the number 11 is a master number with powerful vibrations," Foy explains. "Project 1:11 represents the rejuvenation of spirit. We want you to dance, be free…remember what gives you joy and own your power!"
The single "Homage to House," not only celebrates house music but recognizes the legendary ballroom houses, including the Royal House of LeBeija, with founder Chrystal LaBeija credited as a co-creator of the ballroom scene. Ballroom emerged as a safe space for the African-American and Latine LGBTQ+ community to express themselves free from the oppression and racism that existed in more mainstream dance spaces.
"House Music is spiritual and powerful in how it makes you feel," says Foy. "There is a certain freedom in that. These legendary [ballroom] houses moved with freedom in power and spirit. They were family even in competition. House music creates community. When you are on the floor, you feel the vibe, and everyone smiles and does their thing…honoring space and individuality."
Producer and collaborator Germono Toussaint is equally excited about Project 1:11's release, hinting that this may be the first of many musical collaborations for the duo.
"Whenever we would meet to make music, there was a creative energy that I found liberating," says Germono. "We would inspire each other and pass ideas back and forth, finding elements that elevated the music."
Foy, an award-winning stage actress, is not looking to launch a new career or redefine herself as a singer and songwriter. Rather she sees this music project as "adding to my gumbo" and expanding her portfolio of crafts. While Project 1:11 is her first music project, she has lent her vocals to several cast albums for Broadway and off-Broadway productions including Amelie, Amazing Grace, Reunion, and Inside Out.
She has also performed songs written for her character Pastor Patrice Woodbine on P-Valley. She has received great encouragement and energy for her own music from P-Valley's loyal fan base, who showed enthusiasm and support for "LaDida" and "Glow."
"I love our PynkPosse," she exclaims. "They are so supportive of all of our endeavors and they keep #PValley trending every week. The PynkPosse shared my music across all social media platforms."
Project 1:11 will be available on all streaming platforms on Wednesday, January 11th.
For all media inquiries, contact Raine Martin, 917-231-4566 or rainemartin@gmail.com
###