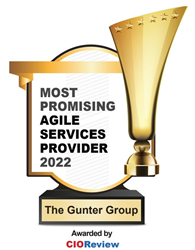 "Companies don't seek to transform to become experts at agile, they seek to transform to better support their customers and achieve better business outcomes. Our firm places a relentless focus on our clients' strategic goals to help them get there." - Matt Bader, TGG Partner
PORTLAND, Ore. (PRWEB) January 11, 2023
The Gunter Group, a management consulting firm that serves clients across the United States, was recently named one of the "10 Most Promising Agile Service Providers" by CIOReview Magazine. The recognition was part of CIOReview's 5th Annual Agile Edition of the publication.
The Gunter Group was identified through a nomination process conducted by CIOReview and was featured in CIOReview's printed edition and online as well.
As an introduction to the recognition CIOReview stated:
"Agile is no longer just a buzzword. It has set a solid root in organizations to quickly adapt to rapidly evolving market and customer demands. Advanced technologies like cloud-based agile systems, AI, and ML agile testing, and quality intelligence platforms are helping organizations simplify complex production and organization processes, and allowing project managers to deliver a project at a functional level when changes may be made more quickly."
When asked about TGG's approach to agile initiatives, Principal Consultant and Agile Services Lead Jim Calko commented:
"We work to seamlessly develop the agile programs that impact the most important strategic initiatives for our clients. To achieve this we take a collaborative approach which results in consensus among the clients' teams and leads their organizations forward with ease."
TGG's unique approach to supporting client partners' efforts to transform elements of their businesses starts with a committed focus as noted by TGG Partner Matt Bader:
"Companies don't seek to transform to become experts at agile, they seek to transform to better support their customers and achieve better business outcomes. Our firm places a relentless focus on our clients' strategic goals by bringing agile expertise and experiences as a capability to help them get there."
The Gunter Group supports organizations with its highly qualified team of consultants that are experienced in leading transformational programs, and have expertise in SAFe, SCRUM, Lean, DevOps, and other agile practices as well as complimentary disciplines like PMBOK, BABOK, ITIL, and PROSCI.
The Gunter Group is known for its listen first philosophy that provides companies of all sizes and industries with effective solutions that align with their culture and objectives. The Gunter Group partners with its clients to understand their strengths, goals, challenges, and culture.
About The Gunter Group
Founded in 2011, The Gunter Group (TGG) features an experienced team of consultants serving clients across the country. TGG prides itself on providing consulting services to a broad range of organizations spanning Fortune 100 companies to locally-based businesses. The firm has been named one of the "Best Companies to Work For" in Oregon by Oregon Business Magazine for eight consecutive years, a "Best Small Firm to Work For" by Consulting Magazine for four straight years, and named one of the Inc. Magazine's "Best Workplaces in the Nation" two years in a row. The Gunter Group currently has over 70 team members with operational hubs in Portland, Reno, Salt Lake City, and Denver.