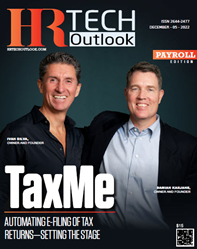 As one customer proclaimed, "Hi Guys - Awesome software! Makes it so painless to submit 941's, which normally can have SO many problems when the IRS reviews them! You take all the guessing out, as well as making it pretty impossible to screw up the return!"
RICHMOND, Va. (PRWEB) January 12, 2023
As a first-time recipient, TaxMe is honored to be recognized and featured on the cover by HR Tech Outlook Magazine as one of its Top 10 Payroll Solutions Providers 2022 in its 7th annual HR Payroll Software edition. Other recipients include ADP and Paychex. Click here to learn more.
TaxMe, http://www.tax-me.com, helps Small Business Owners/their CPAs efile their payroll tax returns (e.g., forms 941, 940) entirely online with some industry-first solutions.
TaxMe's re-imagined process was developed so that employers of any size, in any industry, by themselves or through an advisor, can e-file their payroll tax returns entirely online in minutes without paper, pens, scanners or IRS-issued PINs, the historic headaches.
"We are thrilled to be recognized as a Top 10 Service Provider. Our design is unique and user-friendly. Our signature method is the most efficient and secure in the market," says Ivan Silva, founder, TaxMe.
As one customer proclaimed, "Hi Guys - Awesome software! Makes it so painless to submit 941's, which normally can have SO many problems when the IRS reviews them! You take all the guessing out, as well as making it pretty impossible to screw up the return!"
Why File Form 941 with TaxMe

All products are free to try.
No username or password required.
No software to download and configure, or files to scan and upload.
Easier than completing by pen and paper as the web-based software calculates your tax and highlights many avoidable errors.
Speed up any IRS refund by transmitting cleaner data free from unhandled errors.
Pay any balance due with the click of a button.
Updated for COVID-19 changes.
Try TaxMe's optional facial recognition feature to streamline the process.
Sign using a 5-digit PIN you choose, plus an online signature (instead of waiting up to 45 days for the IRS-issued PIN). This is entirely new to the marketplace.
Pay only after completing the return (including the error check and all reviews). $15 for the base filing.
Available for 2022, 2021, 2020 and 2019
Returns submitted by TaxMe, an Authorized IRS e-file Provider.
Same-day IRS acknowledgment guaranteed. Typically, 1-4 hours.
The Fourth Quarter 2022 Payroll-Tax Filing Window Ending 12/31/2022 is now open and closes Tuesday, January 31, 2023. TaxMe's automated solution can help you efile in minutes.
Click here to efile your Form 941.
About TaxMe
TaxMe is an IRS authorized e-file provider since 2010 and helps Small Business Owners/their CPAs efile their payroll tax returns (e.g., forms 941, 940) entirely online using cutting edge technology and several industry-first solutions. All TaxMe's products are free to try and, to file, you don't first need to register an online account, create a username/password or an obtain an IRS PIN. TaxMe's approach is simpler and more efficient than all its competitors.
Visit TaxMe on the web at: http://www.tax-me.com