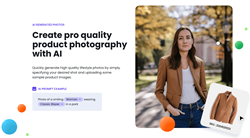 Booth AI Debuts Its Generative AI-based Photography Platform at NRF Big Show
NEW YORK (PRWEB) January 13, 2023
Booth AI, a Y Combinator-backed startup, will debut its generative AI-based photography platform in the STARTUP ZONE at the National Retail Federation (NRF) Big Show 2023 (January 15-17, 2023). Booth AI's innovative technology offers an easy-to-use solution to radically scale image production that retailers and brands can use to address exploding consumer demand for visual content.
Booth AI enables the inexpensive production of hyper-personalized content. Its fast and easy-to-use technology allows retailers and brands to quickly generate fresh visual content that is responsive to any given audience, medium or marketing channel. Available at a fraction of the cost of traditional photography, Booth AI allows both startups and established businesses to elevate their brands.
"We're focused on helping customers super charge content production and we've been really excited by the response we've received," said Nick Locascio, CEO of Booth AI. "We're looking forward to showcasing the power of our solution and connecting with customers at NRF."
Attendees can view and try out Booth AI's platform at booth 353.