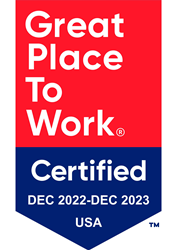 "Great Place To Work is the global authority on workplace culture" says Bruce West, Vice-President of People Operations at WPCCU. "They help organizations survey their employees, uncover actionable insights, and get recognized for your great company culture."
LOS ANGELES (PRWEB) January 13, 2023
Water and Power Community Credit Union (WPCCU) joins many leading organizations in securing the Great Place to Work Certification. This certification recognizes employers who create an outstanding and engaging employee experience.
Great Place to Work helps organizations maximize their people potential through effective leadership, meaningful values and a deep foundation of trust with all employees, regardless of who they are or what they do. With those in place, these workplaces benefit from enhanced innovation and continuous financial growth.
Certification is a two-step process that includes surveying employees and completing a short questionnaire about your workforce. Certification gives employers a recruiting advantage by providing a globally recognized and research-backed verification of great employee experiences.
"Great Place To Work is the global authority on workplace culture" says Bruce West, Vice President of People Operations at WPCCU. "They help organizations survey their employees, uncover actionable insights, and get recognized for your great company culture."
Because employee feedback and independent analysis determine the scores, certification helps future career seekers identify which organizations genuinely offer a great company culture.
About Water and Power Community Credit Union
Water and Power Community Credit Union (WPCCU), headquartered in Los Angeles, is committed to the safety and well-being of the Los Angeles Community, its members and staff. WPCCU was formed in 1936 by a group of employees of the Department of Water and Power in downtown Los Angeles. All people who live, work or go to school in Los Angeles and San Bernardino County can open an account. Currently, assets are over $950 million. The credit union serves over 42,000 members in the Greater Los Angeles Metropolitan Area.
###