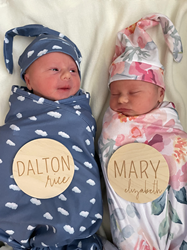 "Snowflakes provided us renewed hope in starting our family at a time when hope seemed lost. "
LOVELAND, Colo. (PRWEB) January 12, 2023
NCA Snowflakes® Embryo Adoption, the only accredited embryo adoption program in the world, has announced the one-thousandth birth of a child resulting from the agency's efforts to match donated frozen embryos with adopting families.
Snowflakes babies one-thousand and one-thousand-one were born on December 23, 2022 to parents Rodney and Mary Leah Miller of Birmingham, Alabama, "We are absolutely thrilled at the arrival of our blessings, Dalton and Mary Elizabeth, and cannot thank the people at Snowflakes enough for the role they played in this miracle. Snowflakes provided us renewed hope in starting our family at a time when hope seemed lost. We are grateful that we were able to provide our adopted embryos a chance to be the people the Lord created them to be. Because of the Snowflakes program Mary Leah was able to experience the joys of pregnancy. While our journey has been long, and not as we originally envisioned, we can now look back at how the Lord has guided each of our steps and honestly say we wouldn't change a single thing about it."
Snowflakes® Embryo Adoption was established in 1997 to help families with remaining embryos from their IVF treatment choose a family to adopt and attempt to give birth to those adopted embryos. Many families who have had failed IVF cycles turn to embryo adoption and successfully give birth. The Snowflakes program helps families donate embryos and adopt embryos in all 50 states.
"We are an adoption agency committed to helping children in all stages of their biological development." says Kimberly Tyson, Vice-President of Snowflakes®. "One-thousand babies born through the Snowflakes program is an affirmation of the viability of embryo adoption. It is an adoption choice that helps families with remaining embryos select an adopting family, rather than simply donating their embryos anonymously through a fertility clinic. Both donor and adopting couples are often unaware that embryo adoption is available. We are working hard to continually raise awareness on this important option for families."
According to Nightlight Christian Adoptions (NCA) president, Daniel Nehrbass, the NCA Snowflakes® program not only helps couples build families in a unique way, but also helps other families who aren't sure what to do with remaining embryos after successful rounds of traditional IVF, "The 1000th Snowflake baby reminds us that you can give birth to your adopted child. Nightlight Christian Adoptions offers a way to give every embryo a chance at life and reduces the number of embryos in frozen storage. If a woman has difficulty conceiving, but is able to carry a baby, Snowflakes embryo adoption is probably the right adoption program for her."
For more information about the NCA Snowflakes® Embryo Adoption program visit:
https://nightlight.org/snowflakes-embryo-adoption-donation/anniversary-landing-page/
https://nightlight.org