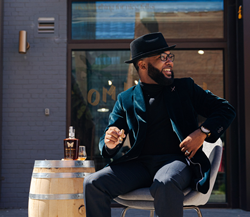 Trey will turn this into the preeminent barrel selection experience in the world and one of the critical pillars of Blue Run's long-term growth plan, elevating the overall Blue Run customer experience to an even higher level.
GEORGETOWN, Ky. (PRWEB) January 12, 2023
Blue Run Spirits today announces Trey Wade has joined the fast-growing, Georgetown, Kentucky-based whiskey company in the role of Chief Experience Curator for Blue Run's soon-to-be-announced Private Barrel Program. Wade starts immediately, reporting to CEO and cofounder Mike Montgomery.
Wade, a well-known figure in the American whiskey industry, joins Blue Run having served as the Vice President of National Partnerships for the Black Bourbon Society for three years. An Executive Bourbon Steward, he has participated in more than 120 barrel selections and contributed to dozens of blending projects for well-known brands. In 2021, Trey collaborated with Blue Run on its inaugural 12 Days of Bourbon release, which set records for selling out 12 days in a row, each in less than two minutes.
Tapping into his years of experiential marketing experience at Dell, Amazon and Five Hour Energy, Wade will manage the curation of Blue Run's first Private Barrel Program, developing an experience that is quintessentially Blue Run. The project will kick off in February, allowing select businesses, spirits societies and individuals to choose from a collection of carefully selected barrels, securing their own whiskey perfectly suited for them but with the distinct characteristics for which Blue Run is known.
"We were introduced to Trey through Black Bourbon Society, founded by Samara Davis, and we knew instantly he shared the same vision and values as Blue Run," said Montgomery. "After working with him on our first 12 Days of Bourbon project in 2021, I could see he had the attention to detail and the overall bourbon experience that would be perfectly suited to lead our Private Barrel Program. In short order, Trey will turn this into the preeminent barrel selection experience in the world and one of the critical pillars of our long-term growth plan, elevating the overall Blue Run customer experience to an even higher level."
Wade will also oversee Blue Run's corporate partnerships and culinary alignment.
"It struck me immediately that Blue Run was doing something different and interesting in the whiskey industry," said Wade. "There was an energy and a passion to reach a wider whiskey audience that I found infectious. I am very excited to bring yet another dimension to this vibrant organization."
Blue Run Spirits has introduced 13 bourbon and rye whiskey releases since the company launched in October 2020, selling 21,000 9 liter cases in 2022 – a 300% year-over-year increase. It is forecasting sales of 32,000 9 liter cases in 2023. Blue Run plans to invest nearly $51 million in a 35,000-square-foot distillery and a 20,000-square-foot rickhouse in Georgetown, Kentucky which will break ground in Q2 2023.
"We feel strongly that the team at Blue Run should accurately reflect the diverse community that is embracing our whiskies," continued Montgomery. "Shaylyn Gammon serving as our Whiskey Director and now Trey developing and leading our Private Barrel Program reflects our commitment to Blue Run's founding mission and values."
Blue Run Spirits can be purchased in California, Indiana, Kentucky, Louisiana, Texas and Washington (launching Q1 2023) (Republic National Distributing Company); Georgia (Savannah); South Carolina and Tennessee (Advintage); Delaware, Maryland and Washington, D.C. (Prestige-Ledroit); Arizona, Colorado, Florida, Illinois, Missouri, Nevada, and Wisconsin (Breakthru); New Jersey (Fedway Associates); New York (Empire); Kansas (Worldwide Beverage Group); Arkansas (Arkansas Wine and Spirits); Connecticut (Connecticut Distributors, Inc.); Massachusetts and Rhode Island (launching February 1, 2023) (Horizon); Alberta and Ontario (launching Q1 2023) (Evergreen); and online at http://www.bluerunspirits.com/shop powered by Seelbach's.
Find Blue Run Spirits online at http://www.bluerunspirits.com, and on social media: Instagram, Facebook and Twitter.
EDITOR NOTE: Hi-res bottle images can be found HERE.
ABOUT BLUE RUN SPIRITS
Georgetown, Kentucky-based Blue Run Spirits is an evolution of the traditional spirits company, creating award-winning bourbons and rye whiskies through time-honored traditions matched with inclusive, forward-looking vision. It all starts with the whiskey itself, carefully crafted by Blue Run Liquid Advisor and Bourbon Hall of Famer Jim Rutledge and Whiskey Director Shaylyn Gammon. That precious liquid is then housed in striking packaging adorned with Blue Run's signature butterfly medallion, marking the metamorphosis of a centuries-old industry as Blue Run reaches across the bar to welcome today's younger, broader and more diverse whiskey drinker. Blue Run Spirits was founded in 2020 and was named one of the 50 most innovative companies in America by Bloomberg.
# # #