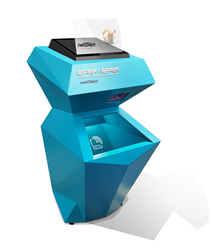 Partner Tech is always looking to innovate and bring new technology to market and the holographic touch technology enables us to meet the increasing demand for contactless and sanitary self-service solutions.
ANAHEIM, Calif. (PRWEB) January 13, 2023
At NRF 2023 Retail's Big Show in New York, January 15-17, Partner Tech USA Inc (booth #3103), a leading manufacturer of intelligent POS and self-service solutions, will feature its latest retail innovations with focus on streamlining the store operations and delivering exceptional customer experiences.
Bora Bora Self-checkout and Mastercard Payment with Holographic Touch
One of the most exciting news this year, is Partner Tech's self-checkout kiosk Bora Bora with a holographic display, which is a result of the new partnership with Holo Industries, a developer of interactive holographic touch systems. Bora Bora is the retail industry's first self-checkout kiosk to use holographic touch. It revolutionizes the customer experience by enabling a 100 percent contactless and germ-free checkout/ordering process through mid-air interaction with the holographic display. In addition, Partner Tech will showcase a world's first holographic payment system from Mastercard, which uses mid-air PIN entry and signature based on the Holo technology for card holder verification. Partner Tech will market and sell holographic touch in combination with its POS and kiosk solutions for use in retail, hospitality and healthcare in the American market.
"Our partnership with Partner Tech USA allows us to offer holographic touch solutions to retailers and hospitality companies across America, backed by the support and industry expertise that Partner Tech brings to the table," says Glenn ImObersteg, CEO at Holo Industries. "Post-pandemic, the retail industry has been dealing with increased demands on cleanliness and sanitation, and by joining forces with Partner Tech, we can now offer a 100 percent touch-free and germ-free self-service solution."
"Partner Tech is always looking to innovate and bring new technology to market and the holographic touch technology enables us to meet the increasing demand for contactless and sanitary self-service solutions," says Sandra Hsia, president of Partner Tech USA. "Not only does this technology provide a touch-free experience, but it also has a "wow-factor" that offers new ways to engage with customers in the store. We are excited to partner with Holo Industries as we start to explore how this revolutionary technology can transform the retail experience."
Alfred SCO: A Modular Self-Checkout Solution with Intelligent Fraud Prevention
At NRF, Partner Tech will also showcase several other self-checkout solutions, including Alfred SCO, which is a turnkey self-checkout solution with intelligent AI-driven fraud prevention. It enables shoppers to quickly scan, bag and pay for their items while preventing theft by combining data from computer vision and a security scale for verification of scanned items. The Alfred SCO solution is modular and fully customizable, which allows retailers to design a self-checkout solution that meets their needs.
Next-Generation Audrey POS
Partner Tech will also showcase Audrey II, the next generation all-in-one touchscreen POS system, based on Partner Tech's most loved POS system. It has the same sleek design, but is equipped with more CPU power, ultra-slim bezel, a brighter optically bonded display, and Windows 11.
Meet Our Software Partners
Partner Tech is also proud to have some of its POS software partners in the booth, including iVend Retail, Datasym, Integrated Store Systems/Acceo Logivision, Magstar, Mariner Business Solutions, Point of Sale Cloud and Total Touch. The strong partner network is critical for empowering retailers to create better customer experiences and become more profitable, using Partner Tech's solutions.
Meet Partner Tech at booth #3103 at NRF 2023, January 15-17 at the Javits Convention Center in New York City or visit http://www.partnertechcorp.com to learn more, or follow us on Linked In or Twitter.
###
About Holo Industries LLC
Holo Industries is the inventor of Holographic TouchTM, a disruptive technology that combines holographic plates, optics, sensors and proprietary software and hardware components to create highly responsive mid-air interaction. Holo Industries manufactures products in various sizes and form factors for the consumer, elevator, restaurant, banking, retail, hospitality, gaming, medical, automotive and aerospace industries.
About Partner Tech
Founded in 1990, Partner Tech has more than 30 years' retail experience as an ISO 9000-certified manufacturer with in-house design capabilities. Partner Tech designs and builds a large selection of touch screen POS terminals, self-service kiosks, tablets and mobile devices – with support for Windows and Android, and up to five years warranty on certain products. In addition, the company offers value-adding solutions for Wi-Fi optimization, cloud device management, global fiscalization software, and more. Partner Tech is a member of the Qisda Group and headquartered in Taiwan with a large international presence and sales offices in America, Europe, Asia, Middle East and Africa. The American sales office is located in Anaheim, CA.