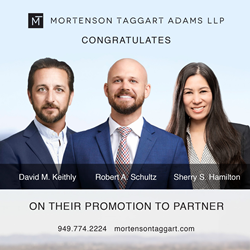 "I've known and worked with each of these attorneys for a long time. They are pillars of what we are doing here at the firm, and I couldn't be more honored to have each as my partner." - Kevin Adams, named partner
IRVINE, Calif. (PRWEB) January 17, 2023
Mortenson Taggart Adams LLP is proud to announce that attorneys Sherry Hamilton, Robert Schultz, and David Keithly and have all been elevated to Partner.
"We are elated to elevate this group of stellar attorneys," said the firm's co-founder, partner Craig Taggart. Adding, "each is an accomplished litigator who brings unique subject matter expertise that adds to the firm's diversity and ability to service its clients."
Sherry Hamilton's practice focuses on employment law, unfair competition, intellectual property rights, state and federal franchise laws, products liability, and general business disputes. Ms. Hamilton has represented clients in a wide range of industries, including automotive, sports and fitness, security services, and restaurant and food services. She has extensive trial experience and has tried complex cases for high-profile clients throughout the United States.
Ms. Hamilton graduated from the University of Kansas School of Law. She is admitted to practice law in California, New York, Kansas, and the District of Columbia. Before joining Mortenson Taggart Adams LLP, Ms. Hamilton practiced at LaRocca Hornik Rosen & Greenberg LLP and Venable LLP.
"I feel fortunate to be working with such a great group of people and am honored to be elevated to Partner," said Sherry Hamilton.
Robert "Bob" Schultz is an experienced trial attorney who primarily handles complex business litigation. Bob's practice encompasses wide-ranging commercial disputes, including intellectual property, employment, contract, corporate control, merger and acquisition, officer and director liability, product liability, franchise and distribution, commercial fraud, and consumer protection. Bob has represented and litigated against a variety of clients, including Fortune 500 companies, mid-market companies, nascent startups and individuals. Bob utilizes his business background to align his clients' legal goals with their business goals and obtains results that secure both.
Mr. Schultz graduated from the University of San Diego, magna cum laude, Order of the Coif. Prior to joining Mortenson Taggart Adams, he practiced at Stradling Yocca Carlson & Rauth P.C. and Dorsey & Whitney LLP.
"Mortenson Taggart Adams has built and is continuing to build something special," said Bob Schutz. "I'm excited to be a part of it in this new role."
David Keithly's practice focuses on complex business litigation, breach of warranty litigation, employment law counseling and litigation, and contract disputes. He represents clients in the manufacturing, consulting, banking, hospitality, finance, construction, pharmaceutical, telecommunications and tech industries. He also represents individuals in employment matters and corporate, contract and property disputes. In addition, Mr. Keithly devotes a considerable amount of his practice to representing automotive manufacturers and suppliers in class action and consumer litigation in state and federal courts.
Mr. Keithly graduated from The George Washington University School of Law. Prior to joining Mortenson Taggart Adams, he practiced at Stradling Yocca Carlson & Rauth P.C. and Schilling Law Group, P.C.
"I am honored and humbled to join the other partners at Mortenson Taggart Adams," said David Keithly. "I am grateful to everyone who has supported and mentored me throughout my career. I look forward to continuing to serve our clients and support the firm as we continue to grow together."
Regarding the new partnership promotions, named partner Kevin Adams said: "I've known and worked with each of these attorneys for a long time. They are pillars of what we are doing here at the firm, and I couldn't be more honored to have each as my partner."
About Mortenson Taggart Adams LLP:
Mortenson Taggart Adams LLP is a full-service litigation firm that represents a variety of Fortune 500, mid-market companies, as well as entrepreneurs and early-stage clients. Mortenson Taggart Adams LLP's attorneys have successfully litigated and tried high-profile, bet-the-company cases for clients across the country and have successfully handled cases concerning consumer warranty disputes, commercial contracts, partnership and shareholder disputes, fraud, consumer protection, employment, securities and franchise and distribution matters.
For more information, please contact press@mortensontaggart.com and follow the company on LinkedIn.