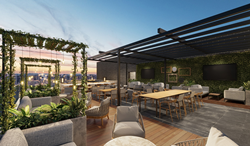 The hotel—developed by The Buccini/Pollin Group and Perseus TDC, an entity of Transwestern, and managed by PM Hotel Group—is the first franchised Marriott property inside Washington's Capital Beltway.
WASHINGTON (PRWEB) January 13, 2023
Washington Marriott Capitol Hill debuts January 11, 2023, standing between Washington DC's iconic Capitol Hill and emerging NoMa neighborhoods.
"The new Washington Marriott Capitol Hill reflects the transformation of the Marriott brand, delivering imaginative design, memorable food and drink concepts, and uncompromising service that will appeal to guests and locals, delivering authentic and memorable experiences," said Rick Sawyer, General Manager.
Located within walking distance of the iconic DC destinations, the hotel is a true urban retreat. Situated within the newly developed NoMa Center, the hotel sits adjacent to 40,000 square feet of new retail and restaurants. Guest spaces provide workstations with high-speed internet access, as well as luxurious linens, modern amenities, and a state-of-the-art fitness center.
INSPIRED INNOVATION
Upon arrival, guests enter sophisticated public areas designed by award-winning, local Washington, DC-based designer, Darryl Carter. Society Commons, a social hub from day to night, features an intimate bar and a full-service restaurant.
The hotel's design is focused, determined, and efficient using crisp and streamlined architectural and decor elements that are intentional and purposeful. The materials are polished and refined, with hints of strong metals and warm woods. The style embraces the future by combining these metals and woods in fearless applications, using contemporary forms and angular shapes that are both unexpected and dramatic.
The hotel's M Club is open 24/7 as an exclusive space reserved for Marriott Bonvoy Elite members. Benefits include complimentary food and beverage throughout the day such as hot breakfast, evening hors d'oeuvres, and premium beverages.
NEXT LEVEL MEETINGS
With 18,000 square feet of pre-function and event space, the hotel creates connections and offers spaces that can be adapted to varied sizes and formats. Designed to accommodate today's guest needs, the space can host 280, while customizable for intimate events. In addition to the innovative indoor meeting space, the property also boasts a stunning courtyard that delivers more than 5,000 square feet of extraordinary special event space with the nation's skyline as a backdrop.
SAVORY DELIGHTS
An oasis in the sky, Yara is a sexy indoor/outdoor venue that includes a chef-driven restaurant, buzzing bar + lively lounge that celebrate the cuisine and spirit(s) of Latin cultures… with a twist! The menu features fresh and bold flavors, embraces seafood, shareables and unexpected flavor profiles. The outlet offers traditional and modern takes on dishes from across Central and South America. Adding to the fun, the mixology program features creative and classic craft cocktails, incorporating fresh squeezed juices and zero-proof tonics and botanicals.
The hotel, developed by The Buccini/Pollin Group and Perseus TDC, an entity of Transwestern, and managed by PM Hotel Group, is the first franchised Marriott property inside Washington's Capital Beltway.
Washington Marriott Capitol Hill is located at 175 L Street NE, Washington, DC, 20002. The hotel participates in Marriott Bonvoy, allowing members to earn and redeem points for their stay at the new hotel, and at other hotels and resorts across Marriott Bonvoy's extraordinary portfolio of brands. With the Marriott Bonvoy app, members enjoy a level of personalization and a contactless experience that allows them to travel with peace of mind.
For more information about Washington Marriott Capitol Hill and to book reservations, visit http://www.Marriott.com/wasnn or call (202) 972-9800.