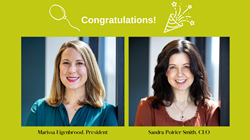 I am confident that our company is in the very best hands with Sandy and Marissa at the helm, Sandy is a true book publicity thought leader and a key to our growth over the years, while Marissa has proven to be a dynamic and integral part of our company's leadership team. Dan Smith, Founder
Cherry Hill, NJ (PRWEB) January 16, 2023
Smith Publicity, one of the leading book marketing agencies in the publishing industry, has announced the promotion of two company executives. Marissa Eigenbrood has been promoted to President and Sandra Poirier Smith has been named Chief Executive Officer. "I am confident that our company is in the very best hands with Sandy and Marissa at the helm," says Dan Smith, Founder of Smith Publicity. "Sandy is a true book publicity thought leader and a key to Smith Publicity's growth over the years, while Marissa has proven to be a dynamic and integral part of our company's leadership team."
Eigenbrood began her career at Smith Publicity as a book publicist and business development associate in 2009. During the past 14 years, her role has evolved from Senior Publicist to Director of Operations, to Vice President, to Senior Vice President, along the way serving an integral role in the development and oversight of daily operations of the business. She has also been an industry leader in the publishing and book marketing communities, presenting at various industry events—most recently IBPA's Publishing University—as well as lending her perspective and expertise to many podcasts and webinars.
For nearly two decades, Sandra Poirier Smith has contributed her deep knowledge and passion for the book industry, along with her signature warmth, to Smith Publicity as President. She has been instrumental in the continued growth and advancement of the company, supporting its mission to build visibility for authors, publishers, and thought leaders. She also has served as a prominent voice in the industry, presenting at conferences and appearing on podcasts, webinars, and workshops globally.
The executive promotions come on the heels of the book publicity firm's 25th year in business. Year after year, Smith Publicity continues to grow, innovate, and remain dedicated to its mission of making good things happen for authors.
About Smith Publicity
Smith Publicity is the most prolific book marketing firm in the publishing industry today. As book promoters, Smith Publicity has worked with and promoted more than 4,000 authors and books since 1997. The Smith team of publicists creates campaigns for authors ranging from first-time self-published writers to New York Times bestsellers. The firm's continuing success in a wide range of genres is a tribute to its uniqueness and ability to boldly and ingeniously innovate.
Complete information about Smith Publicity, its staff, and its services is available at https://www.smithpublicity.com