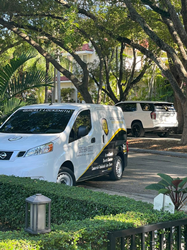 Make sure that common areas, such as hallways and stairwells, are well-lit. This can help deter burglars and make it easier for you to see who is coming and going.
MIAMI (PRWEB) January 16, 2023
Keeping an apartment or any other rented property secured is a shared responsibility. Tenants and owners both have their roles to play in keeping a safe environment for everyone.
If you're a landlord or rent property from one, there are several things you can do to keep it secure.
-For Landlords:
1. Require Tenant Background Checks:
Everyone seems nice during the interview process. They promise they'll keep the noise down, damage to a minimum, and pay the rent on time. Then, they transform into completely different people once they're on your property and it's much harder to get them out.
Let potential tenants know that a background check is a part of your screening process and get permission from them to conduct it. Those who don't have anything to hide won't mind and you'll have greater peace of mind about who you're renting to.
2. Install security cameras:
Security cameras can be an effective deterrent against break-ins and other crimes.
They can also help you identify any potential suspects if an incident does occur.
Just be sure to let your tenants know that cameras are being installed and where they are located.
3. Replace old locks:
Old locks can be easy to pick or break, so it's a good idea to replace them with newer, more secure ones.
Deadbolts are a good choice, as they are more resistant to tampering.
You might also consider installing locks that can be opened with a keypad or a smart lock that can be controlled with a smartphone app.
Regularly check locks, hinges, and other security features to ensure they are in good working order.
4. Enforce a strict guest policy:
It's important to know who is coming and going from your apartment complex.
Consider implementing a strict guest policy that requires tenants to register their guests and provide identification.
This can help you keep track of who is on the premises and can also serve as a deterrent to potential burglars.
5. Use sturdy doors and windows:
Weak doors and windows can be easily forced open by burglars.
Consider upgrading to more secure options, such as doors with reinforced hinges and windows with double-paned glass.
-For tenants:
6. Lock all doors and windows:
This may seem like a no-brainer, but it's important to make sure all entrances to your apartment are securely locked.
This includes doors and windows, as well as any sliding glass doors or balconies.
Consider upgrading to deadbolts or other high-security locks to provide an extra layer of protection, if your landlord hasn't already installed these.
7. Use a peephole:
If you have a door with a peephole, use it to identify visitors before opening the door.
This can help prevent unexpected guests, such as solicitors or burglars, from gaining access to your home.
8. Don't advertise your absence:
When you're away from home, make sure to close your blinds and turn off any electronics that may be visible from the outside.
This can help prevent burglars from knowing that your apartment is unoccupied.
9. Get to know your neighbors:
Building a sense of community with your neighbors can be an effective way to improve the security of your apartment building.
Not only will you be more likely to look out for each other, but you'll also be able to report any suspicious activity to the authorities more quickly.
10. Keep common areas well-lit:
Make sure that common areas, such as hallways and stairwells, are well-lit.
This can help deter burglars and make it easier for you to see who is coming and going.
Keeping your apartment building safe doesn't have to be hard
By implementing these measures, you can help ensure that your apartments are as secure as possible. If you're a landlord, this can not only help protect your tenants, but it can also help protect your investment and keep your business running smoothly.
For tenants, apartment living has many benefits, including convenience and a sense of community.
They can also present unique security challenges. With multiple units and common areas, it's important to take steps to protect yourself and your home.
By following these tips, you can help ensure the security of your apartment and protect yourself and your belongings.
While no security measures can guarantee absolute protection, taking proactive steps can significantly reduce your risk of being a victim of a break-in or other crime.
Reconsidering your apartment security?
We have several years of experience reviewing lock, window, and door security in residential and commercial buildings. Call us at 305 984 9922 to assess your building's security or email us at quicklylock@gmail.com.