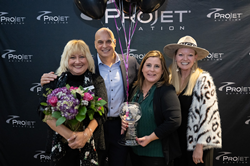 "It is an incredible honor to be recognized as Paragon's FBO of the Year, and we are so grateful for our dedicated employees who make it all possible!" - Shye Gilad, ProJet Aviation CEO
LEESBURG, Va. (PRWEB) January 18, 2023
ProJet Aviation received recognition as Paragon Aviation Group's 2022 FBO Member of the Year. More than 90 Paragon FBO members and thousands of flight departments had the opportunity to cast their votes for the award. Customer feedback surveys submitted throughout the year also played a role in determining ProJet Aviation as the 2022 winner.
Paragon's President, Megan Barnes and her colleague surprised ProJet's operations team at Leesburg Executive Airport (KJYO) where ProJet was hosting a sold out Loudoun County Chamber of Commerce event of almost 200 people. Barnes presented the ProJet team with a personalized crystal trophy, a custom banner to display in the airport lobby, and other memorabilia to commemorate their hard work.
Paragon will also make a legacy scholarship donation to ProJet's Aviation Education & Career Expo in 2023, one of the largest and most successful aviation events for young adults exploring careers in flight. The scholarship will honor the memory of Fury Gilad, a life-long Expo advocate and recently deceased mother of ProJet CEO Shye Gilad, who started the scholarship program.
"It is an incredible honor to be recognized as FBO of the Year by our Paragon Network colleagues and customers," said Gilad. "The legacy of taking care of people and creating opportunities for others means a lot to my family and our company, and we are so grateful for our dedicated employees who make it all possible."
###
About ProJet Aviation
ProJet Aviation is the DC metro region's premier aviation hospitality company, dedicated to helping people accomplish extraordinary things through the wonder of flight. The company operates ProJet Center, a Fixed Base Operation (FBO), at Leesburg Executive Airport (KJYO), general aviation's gateway to Washington DC, Dulles, and Virginia's Horse & Wine Country. Established in 2007 as a partnership between former airline pilot, educator, and entrepreneur Shye Gilad, and noted entrepreneur and philanthropist Sheila C. Johnson, Founder & CEO of Salamander Hotels and Resorts, ProJet Aviation combines the operational integrity of the world's best airlines with the refined service of a world-class resort. ProJet's numerous accolades include recognition as a Washington Business Journal Best Place to Work, Loudoun County Chamber of Commerce Service Business of the Year, and an Inc. 500/5000 Fastest Growing Company.
About Paragon Network
The Paragon Network is a distinguished membership of over 90 elite FBOs and international handling agents that provide world-class service to general aviation travelers around the globe. Paragon Aviation Group performs a comprehensive audit of the facilities and services offered to ensure the quality of the member base before any FBO joins The Paragon Network. Each member FBO must comply with a set of strategically developed core standards to remain in the group. Paragon Aviation Group facilitates The Paragon Network.
About The Aviation Education & Career Expo
The Aviation Education & Career Expo is one of the largest and most successful aviation education events in the United States, awarding to date, over $1.5 million dollars in scholarships to high school and college students pursuing careers in the aviation and aerospace industry, since its inception in 2005. Cofounded by aviation professionals Julie O'Brien and Sarah Thompson, the Expo is committed to helping students explore the many career opportunities available to them through the world of flight. The Aviation Education & Career Expo is hosted by ProJet Aviation at Leesburg Executive Airport (KJYO), in Leesburg, VA.