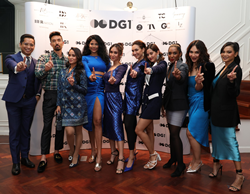 Advanced DG1 web system in the hands of SEA celebrities will impact the awareness for online growth of businesses in the SEA region
KUALA LUMPUR, Malaysia (PRWEB) January 16, 2023
4 months have passed since their official launch in Malaysia, Canadian/Swiss-based eCommerce service provider DG1 has set out to continue its mission to transform the Malaysian eCommerce industry. With 11 megastars and influencers from South East Asia, DG1 is showcasing a new standard to be online for any type of business in which their business potential can be leveled up to unlimited growth, local and global.
Stars in attendance include Diana Danielle, Nadia Brian, Ramona Zamzam, Tim Connor, Afifa Anuar, Thanuja Ananthan, Dada Herzog Al-Attas, Iman Mohamed Osman, Raja Izzuddin, Leen Zakaria, and Maggie Wilson (remote video sharing).
During the event, the company's Group CEO and founder, Gregor Zebic, stated that "influencers would be able to monetize their entire name & branding to the maximum, simply by utilizing our all-in-one web platform." The influencer or brand is running its own web system with advanced e-commerce, big data, and communication system. Monetization data from the campaigns is centralized in the hands of the brand or influencer. By leveling up with DG1, SMEs are able to expand their businesses and completely triple their earnings. During this period of rapid economic development, he believes that business owners in Malaysia and around the world are in need of their own advanced systems in order to thrive. Partnerships with influencers and prominent communities in Malaysia enable DG1 to deliver new tools to empower new business models. He hopes these partnerships will result in nationwide reach and higher exposure of DG1 and supporting partners.
"As we significantly recruit and grow our staff here in Malaysia, we are prepared to serve, support, and advocate fellow Malaysians on the significance of data ownership to everyone who uses their platform," he says. Trophies of appreciation for the stars – Each of the stars were given trophies of appreciation by DG1 Malaysia to commemorate the launching of their new website on the platform itself.
Q&A Session with the stars – Stars shared their first-hand experience using the platform and they've also highlighted the difference it has, having a dedicated team in Malaysia, to assist them with their online growth. They also talked about using the platform first-hand and emphasized the difference it makes having an easy-to-use interface to manage their systems and a dedicated team in Malaysia to help them, if they run into any problems, as opposed to other web-builder platforms, where their team is dispersed globally, making it challenging to manage and communicate given the complexity of tools and language/time-zone differences.
They've also highlighted some key features that business owners may use to their maximum advantage, such as the ability to manage multiple websites under one account, which enables them to operate multiple distinct online stores and personalize their user experience.
Afifa Anuar from hernation.shop remarked it is important as a business owner to have your own website with shop enabled as it is more credible and all the information necessary of the products can be placed in a clear and attractive manner. It's the perfect platform to educate and convert. The stars in attendance believe with DG1, they can grow revenue better and in combination with social media, they can aggregate the user's data to serve them better.
Diana Danielle also shared that DG1 has leveled her digital growth. All her assets online are now centralized – on one hand, it makes it easier for people to find and reach her, on the other, she is now able to manage and operate at a higher efficiency rate.
Thanuja Ananthan remarked, "future is data, and with DG1 I have it all in the palm of my hands". Her advice to the community of business owners and influencers is "do have digital assets, and grow them. It's time to level up."
About DG1 Group
With over 20 years of experience in digital product development and enterprise systems, we developed DG1 to equip SMEs with a simple, quick, and functional platform giving them a fully managed digital landscape with complete access and ownership of customers' data. With new B2B data ownership structures, DG1 will enable online growth, and future AI tools for SMEs.
About DG1 Malaysia SDN BHD
DG1 Malaysia SDN BHD is a subsidiary of DG1 Group, having officially launched in Kuala Lumpur in September 2022. The office is set to be the sales and supporting arm to further provision DG1's mission to put SMEs in ASEAN to be in the digital global map.
For more information, visit DG1's website, Facebook, Twitter, or Instagram page.
For media inquiries, please contact: press@dg1.com