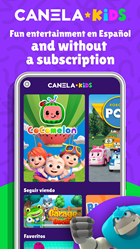 Canela Kids was created with the aim to provide Latino parents with content in Spanish that is both entertaining and fun for their kids and at the same time, a vehicle to preserve their language and culture.
NEW YORK (PRWEB) January 17, 2023
Canela Media, a leading, minority-owned technology driven company committed to redefining digital media experiences for the Hispanic community, announced today the availability of Canela Kids, a stand-alone mobile app featuring over 3,000 hours of children's programming in Spanish. Canela Kids is available for iOS and Android for free.
Canela Kids offers premium content from some of the world's most recognized franchises such as Cocomelon, Barbie™, Hot Wheels™, Garfield, The Air Bud franchise, and much more. The app has seven channels of content with over 40 new titles from top global content providers including exclusive premieres, originals and co-productions such as Club Mundo Kids. Also featured at launch will be the Canela Kids Dance Challenge where parents can submit videos of their children's best dance moves - ages 2-12 years of age - for a chance featured on the app.
"Canela Kids was created with the aim to provide Latino parents with content in Spanish that is both entertaining and fun for their kids and at the same time, a vehicle to preserve their language and culture. As a Latina mother that is proud of our roots this project is very meaningful for my own family and it is my personal hope that Canela Kids will be equally meaningful for all Latino families who want to retain their language, learn more about our culture and have an impact in the future of building a more equitable USA," said Isabel Rafferty Zavala, co-founder & CEO of Canela Media. "We have carefully curated all the content available on the app to provide the best experience for children in Spanish and we are incredibly proud to launch the Canela Kids App with the advertising support of some major brands, including Mattel."
Canela Kids features programming for every age group from 0 to 12 years old. It also offers filters enabling parents to sort content by age group and curate the content available to their children.
"Canela Kids is perfect for families on the go, designed specifically for the modern, digital kid and Hispanic parents," said Maggie Salas-Amaro, Director of Canela Kids. "We created the Canela Kids App to reflect today's consumption habits for kids. We have done so with content that is authentic and relevant with timely storylines about friendships, fun ways to learn and embark on great adventures with the imagination."
Canela Kids Channels includes seven FAST channels:

Canela Kids: Canela's flagship channel with offerings for all ages and interests.
Planeta De Aventuras: created for the curious 5-7 year old audience with adventure and exploration storylines.
Zona De Acción: curated for modern boys and girls with action-packed, fast-moving shows and characters.
¡Haz Clic!: created for the tweens ages 9-12.
Moonbug Kids: includes global sensations CoComelon, Blippi, Little Baby Bum, My Magic Pet Morphle, T-Rex Ranch, Gecko's Garage, ARPO and many more.
Mundo Pequeño: a channel curated for the youngest members of the household (preschool) featuring well known titles like Pocoyo, Rainbow Ruby, Robocar Poli and RAGGS.
Cine Kids: the best in movies for kids of all ages.
New titles premiering on Canela Kids include:

Mattel franchises including American Girl™, Barbie Dreamtopia™, Monster High™, Thomas and Friends™, Hot Wheels, Enchantimals™ and more.
Bajillionaires, premiering for the first time in Spanish.
Heidi, bienvenida a casa, a kids novela.
Heidi Bienvenida al show, available for the first time to U.S. and Latin American audiences (early 2023)
The new animated preschool series Nina y Olga, an exclusive premiere new to U.S. and Latin America.
Club Mundo Kids, Season 2 coming exclusively to Canela Kids in 2023.
Total Drama and Angry Birds
The complete Air Bud Franchise
Canela Kids is available on the App Store and Google Play.
About Canela Media
Canela Media is a leading, minority-owned technology driven company offering brands a complete ecosystem to connect with multicultural audiences starting with its free streaming platform service, Canela.TV, which enriches the new generation of U.S. Latinos with free access to unique, culturally relevant content. In addition to TV content, Canela Music features a unique blend of Latin music programming, featuring various genres from Latin Pop, Regional Mexican, Classics, Romantic, and more.
Canela Media reaches more than 50 million unique Hispanics across its 180+ premium Spanish-language sites. Combined with the company's proprietary data, Canela Media possesses in-depth knowledge and understanding of how to establish meaningful and culturally relevant connections with the new mainstream – U.S. and Latam Hispanics.
Headquartered in New York, Canela Media is ranked as the fourth largest Hispanic ad-focused company and the only female- and minority-owned certified digital company. For more information please visit http://www.CanelaMedia.com.