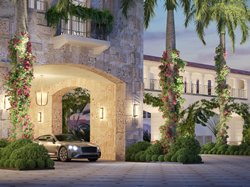 MILL VALLEY, Calif. (PRWEB) January 17, 2023
Auberge Resorts Collection, the award-winning portfolio of one-of-a-kind luxury resorts, hotels and residences, has been selected by Witkoff and PPG to manage Shell Bay, Auberge Resorts Collection, a new jewel in Greater Miami that is set to become one of the most exceptional resort and residential communities in the country. Slated to completely open in 2025, Shell Bay will feature a boutique hotel and bespoke residences anchored by a world-class private members' club, featuring a private yacht club, an 18,000-square-foot spa and fitness facility, an unparalleled racquet club and a Greg Norman-designed championship golf course. An inspiring oasis, the oceanside enclave will set a new standard for luxury on Florida's Gold Coast.
Located just north of Miami, Shell Bay, Auberge Resorts Collection will create an exciting new destination for the region, drawing guests and homeowners to an unrivaled experience. Situated on the Intracoastal waterway, the sea-hugging Shell Bay property will enable travelers to arrive by private yacht and seamlessly enter an oasis of perfect emerald fairways, unmatched sport and leisure facilities and an inspired al fresco outdoor dining and cocktail scene. Guests will cherish the sophisticated property as a place to retreat for a week or, for residents, to reside in the ultimate vantage point along the Atlantic.
"We're thrilled to continue to grow our presence on the Atlantic Coast with the addition of Shell Bay, one of the most stunning waterfront locations in South Florida, to Auberge Resorts Collection's portfolio of one-of-a-kind properties," said Dan Friedkin, chairman, Auberge Resorts Collection. "This seaside enclave will offer a unique slice of paradise unlike any other destination in the Miami area."
Featuring enhanced modern living for discerning travelers and locals who seek a luxurious coastal experience, the new 130-acre resort will boast a luxury hotel, featuring 60 guestrooms and suites, and a brand new 20-story residential tower with 108 Auberge branded residences. Renowned interior design firm AvroKO has been selected to lead the design of the residences and hotel rooms, which combine open-concept layouts, gracious wraparound terraces and expansive golf course and water views.
Sprawling resort grounds, designed by landscape architects Nievera Williams, will exhibit an expertly-curated sport and wellness playground flanked by swaying palms and lush greenery under sunny Florida skies. Presenting a standout sports and wellness sanctuary combined with a convivial social scene, the property strikes the ideal balance of athletics, luxury and leisure befitting the locale. Boasting the first new private golf course in the Miami area in 25 years, the property's Greg Norman-designed Championship Golf Course measures 7,250 yards—one of the longest golf courses in South Florida. The property also features a 12-acre professional golf practice facility with the Shell Bay Golf Academy and 9-hole par 3 course.
Beyond private world-class golf, an impressive on-site racquet-sport facility will appeal to tennis enthusiasts. Set in a picturesque garden, the Shell Bay Racquet Club is one of the few facilities in the world to offer all four Grand Slam surfaces, where guests will have their choice of European red and green clay or grass, as well as paddle ball and pickleball courts. The property will also sport a full-size basketball court.
An 18,000-square-foot fitness center and spa facility, designed with future-forward technology and state-of-the-art equipment, will offer a diverse menu of fitness programming, including tailored small-group sessions, a boxing ring, Pilates Reformers and yoga. Taking advantage of the natural Florida warmth, an outdoor wellness terrace will also offer open-air training. At the spa, guests will find total relaxation and recovery with a comprehensive and holistic treatment menu envisioned by experts in sport, medicine, nutrition and wellness. Indoor and outdoor spa areas are seamlessly integrated, inviting visitors to unwind and take in the lush landscape surroundings.
Praised equally for sport and wellness as it is for leisure and social interaction, the 14,000-square-foot resort pool, complete with a hot tub and spa facilities, is located on the expansive roof deck of the resident towers. From swimming laps and aquatic training to lounging in chic cabanas and dining by the water's edge, guests can enjoy an elevated vantage point with sweeping views of the spectacular, visually-framed golf course and waterside property.
Along the stunning stretch of the Atlantic, the resort's Yacht Club will welcome guests who arrive by boat to its 48-slip marina. A boutique market will offer a convenient upscale grog shop for boating essentials and provisions, while a dockside cocktail bar will serve as a well appointed casual gathering spot before or after excursions to enjoy the soothing sea breeze and spectacular ocean views.
Whether dining al fresco after observing a perfect Florida sunset or enjoying cocktails on the terrace after a round of golf or thrilling sail along the Atlantic, Shell Bay, Auberge Resorts Collection caters to a laid-back, warm-weather lifestyle. Multiple dining venues with extensive outdoor seating areas, including a Signature Restaurant and Lounge, Member's Bar & Grill (exclusive to club members) and Pool Grill, will offer comfortable spaces to share casual or celebratory meals with friends and family.
Throughout the resort, noteworthy spaces dedicated to children and teens will be found, including the Outdoor Discovery Park, Children's Play Lab & Creation Studio, Teens Club & Game Room and Multi-sports Simulator Lounge, offering fun and enriching destination-inspired activities with family in mind.
Indoor meeting spaces will also be plentiful, with a 9,000-square-foot ballroom and an expansive outdoor terrace ideal for weddings and special events.
Shell Bay, Auberge Resorts Collection will open in 2025. For more information, please visit aubergeresorts.com/shellbay.
About Auberge Resorts Collection
Auberge Resorts Collection is a portfolio of extraordinary hotels, resorts, residences and private clubs. While each property is unique, all share a crafted approach to luxury and bring the soul of the locale to life through captivating design, exceptional cuisine, innovative spas, and gracious yet unobtrusive service. With 25 one-of-a-kind hotels and resorts, Auberge invites guests to create unforgettable stories in some of the world's most desirable destinations.
For more information: aubergeresorts.com
Connect with Auberge Resorts Collection on Instagram, TikTok, Facebook, Twitter and LinkedIn @AubergeResorts and #AlwaysAuberge
About The Friedkin Group
The Friedkin Group is a privately-held consortium of automotive, hospitality, entertainment, sports and adventure companies. These organizations include: Gulf States Toyota, GSFSGroup, US AutoLogistics, Ascent Automotive Group, Auberge Resorts Collection, AS Roma, Imperative Entertainment, 30WEST, NEON, Diamond Creek Golf Club, Congaree and Legendary Expeditions. The Friedkin Group is led by Chairman and CEO Dan Friedkin. For more information, visit http://www.friedkin.com.
About The Residences at Shell Bay
The Residences at Shell Bay mark an unparalleled new luxury living experience unlike anything else in South Florida. Set to debut in Hallandale Beach, FL, in 2023, the 108 bespoke residences developed by The Witkoff Group and PPG Development in partnership with Auberge Resorts Collection will deliver elite, world-class living complemented by resort-style amenities, premium services, exclusive private club membership and more. To learn more about The Residences at Shell Bay and the coveted destination of Shell Bay, please visit http://www.shellbayresidences.com.
Media Contact
Murphy O'Brien
aubergeteam@murphyobrien.com