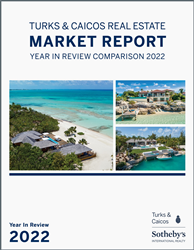 "Following such an unprecedented year as 2021, we were pleased with how solid our performance was in 2022, which is a testament to the quality of the listings, and of our clientele," said Turks & Caicos Sotheby's International Realty President Joe Zahm.
PROVIDENCIALES, Turks & Caicos Islands (PRWEB) January 18, 2023
Turks and Caicos Islands (TCI) has long attracted luxury real estate developers and investors for its turquoise waters, pristine white beaches, attractive quality of life and strong infrastructure. As one of the most sought-after destinations in the Caribbean, TCI has gained much attention from the industry as its steps onto the global stage.
Turks & Caicos Sotheby's International Realty is pleased to release the following findings from its highly anticipated 2022 Year End Market Report, sharing key insights, trends and future outlook predictions.
Overall Market Performance
After a history-making year in 2021, which reached $765M in closed transactions, Turks and Caicos continued its strong performance in 2022, totaling $553M in sales. This second-best year surpassed the prior record holder of 2019, which recorded $337M in dollar volume, by 63.5 percent. Looking ahead into 2023, the sales pipeline remains strong with an impressive $327M in pending transactions led by pre-construction villa sales.
The Single Family Home sector, with $214M in sales volume, accounted for 39 percent of all sales in 2022, as opposed to 49 percent in 2021. This shift can be attributed to absorbed inventory as well as ongoing construction for many residential homes. Total Condominium sales of $171M accounted for 31 percent of all sales volume in 2022, with a similar share compared to 2021. Meanwhile, Land sales of $143M saw the biggest proportional increase year over year, from 19 percent in 2021 to 26 percent in 2022, as investors seek to build and seize long-term investment opportunities.
New Developments
In the context of historic tourism demand, Turks and Caicos continues its new development momentum with several new, exciting projects in various stages. First, South Bank has just launched the iconic Piero Lissoni-designed ARC. The project encompasses 17 two- to five-bedroom "suspended villas" with private pools, ranging in price from $3M to $20M for the 360-degree-view penthouse. The Lagoon Villas have welcomed its first group of owners, with the remaining inventory of 11 villas of the 18 will be completed by late spring. Currently, 16 Ocean Estate Villas, 38 Boat Houses and various on-site amenities are under construction. Also developed by Windward, Nivå designed by Ström Architects are a contemporary design-driven collection of six luxury villas dotted along the elevated tip of stunning Turtle Tail, a response to the environment to serve into the views, elements and built into the landscape. Villas prices start at $6.25M.
What a difference a year has made at The Strand, with the now freshly paved Cooper Jack Road, several luxury Residences, and Buildings A and B of the Villas—all oceanfront with private courtyards and pools—well underway. The development's sprawling oceanfront restaurant, which upon its completion will sit directly on an elevated perch overlooking the beach, is also in progress. The Strand is a spectacular, must-visit oceanfront private community, priced from $2.95M.
Beach Enclave has completed its first of 10 Beach Houses within its North Shore Phase 2 development. At Beach Enclave Long Bay, one four-bedroom Beach House remains for sale at $5.45M. At The Reserve on Grace Bay, 3 ultra-luxury estate homes paired with an unparalleled amenity set are under construction. Only 1 estate home remains for sale at $16.95M. This is the last remaining opportunity to own on best-in-class Grace Bay.
Grace Bay Resorts' Rock House has opened to high occupancies and rave reviews. Half of the under-construction Phase 2 is sold with a select inventory of two- to four-bedroom, elevated villas remaining. Even bigger news is that The Point, the long-awaited expansion of Point Grace, will soon launch to the public, with 38 beachfront units, 4 pool bungalows, 16 casitas and exceptional resort amenities.
The Villas at Blue Mountain has been fully re-imagined under the development and management of acclaimed Hartling Group (The Palms and The Shore Club), with jaw-dropping, elevated North Shore views for sale from $3.95M.
"Following such an unprecedented year as 2021, we were pleased with how solid our performance was in 2022, which is a testament to the quality of the listings, and of our clientele," said Turks & Caicos Sotheby's International Realty President Joe Zahm. "Even more impressive is the fact that there has been no flight to re-sell properties, which is not too surprising as we are such a low-debt jurisdiction that is less impacted by higher interest rates. With existing quality inventory still to be completed, we expect new development and select trophy sales to carry the day in 2023."
About Turks & Caicos Sotheby's International Realty
Turks & Caicos Sotheby's International Realty (TCSIR) is the premier luxury real estate brokerage firm in Turks & Caicos. Boasting a profound track record and significant foothold in all market segments, particularly new development and trophy properties, TCSIR is the go-to resource for developers, investors, home-buyers and sellers in this highly sought-after destination. With strong leadership backed by the world's greatest international luxury real estate brand, and a diverse array of international agents representing 15 countries, TCSIR is influential in both the local community as well as the greater real estate industry worldwide. The firm's signature office is ideally located in uptown Grace Bay with satellite offices at Grace Bay Club, The Palms and Point Grace. For more information please visit http://www.turksandcaicossir.com.