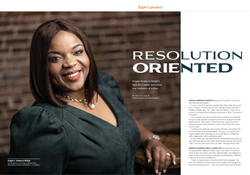 "My mission as an employment mediator and arbitrator is to help employers and employees create great workplaces through the dispute resolution process. I am honored to have received recognition as a top 50 female attorney and Super Lawyer for doing the work I love." - Angela Reddock-Wright
SHERMAN OAKS, Calif. (PRWEB) January 19, 2023
The Reddock Law Group is pleased to announce that its Founding and Managing Partner, Angela Reddock-Wright, also an employment mediator and arbitrator with Judicate West, has been recognized among Southern California Super Lawyers 'Top 50 Women Attorneys' for 2023, and has also been recognized as a 2023 Southern California Super Lawyer in Alternative Dispute Resolution. Reddock-Wright was previously named a Super Lawyers Top Woman Attorney in 2022 and 2016 and has been named a Southern California Super Lawyer each year since 2011.
Additionally, Reddock-Wright was profiled in the 2023 Super Lawyers Magazine article, "Resolution Oriented: Angela Reddock-Wright's fight for a better workplace one mediation at a time".
"My mission as an employment mediator and arbitrator is to help employers and employees create great workplaces through the dispute resolution process. I am honored to have received recognition as a top 50 female attorney and Super Lawyer for doing the work I love," said Reddock-Wright.
ABOUT SUPER LAWYERS:
Super Lawyers selects attorneys using a patented multiphase selection process. Peer nominations and evaluations are combined with independent research. Each candidate is evaluated on 12 indicators of peer recognition and professional achievement. Selections are made on an annual, state-by-state basis. The objective is to create a credible, comprehensive, and diverse listing of outstanding attorneys that can be used as a resource for attorneys and consumers searching for legal counsel. Only five percent of attorneys in the state receive this honor. government, the judiciary and the community at large.
ABOUT ATTORNEY ANGELA REDDOCK-WRIGHT, ESQ:
Experienced Employment Law Attorney, Mediator, Arbitrator, Investigator, Legal and Media Commentator
Angela Reddock-Wright is a distinguished employment and labor law attorney, turned mediator, arbitrator, and alternative dispute resolution (ADR) professional, helping employers and employees resolve some of the most complex workplace-related issues and disputes, especially in the post-pandemic world, the era of #MeToo, employee activism, and strives for equity and diversity. Furthermore, she is a strategic HR and diversity, equity, and inclusion (DEI) consultant and trainer.
In June 2022, Reddock-Wright recently published her first book, Workplace Transformed: 7 Crucial Lessons from the Global Pandemic- Moving Beyond COVID-19 and Embracing the New Future of Work, which is available on Amazon. The book sheds light on the massive changes in the workplace caused by the global health crisis and provides specific, well-thought-out, and practical solutions critical to organizational success.
Reddock-Wright is a highly sought-after TV personality, and legal analyst regularly appearing on ABC, CNN, MSNBC, BBC, Court TV, Entertainment Tonight, The New York Times, Washington Post, USA Today, People Magazine, and many other major media outlets. She also hosts a weekly radio show on Tavis Smiley's radio station KBLA Talk 1580 of Los Angeles called "Legal Lens with Angela Reddock-Wright."
For more information about Reddock-Wright:
https://angelareddock-wright.com/
https://www.linkedin.com/in/angelareddock/
https://www.reddocklaw.com/
https://www.judicatewest.com/adr/angela-reddock-wright
If you would like to speak with Reddock-Wright or her publicist:
Angela Reddock-Wright, Esq.
Mediator, Arbitrator, Investigator
Email: info@reddocklaw.com
Phone: 213.996.8474
Lisa Elkan
Lisa PR
Email: LisaElkanPR@gmail.com