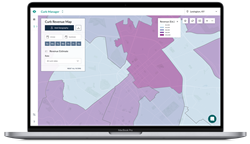 The City of Oakland is partnering with Populus to launch Smart Loading Zones that will allow fleet operators to easily pay for their use of space through GPS technology from delivery or on-demand vehicles.
SAN FRANCISCO (PRWEB) January 19, 2023
This week, the City of Oakland announced a new permit for commercial fleet operators to leverage a frictionless, hardware-free method to pay for curb use and reduce potential parking tickets. The City is partnering with Populus to launch Smart Loading Zones that will allow operators to pay for their use of space through GPS technology from their delivery or on-demand vehicles.
With the rapid rise of commercial delivery, cities everywhere — including Oakland — have experienced unprecedented demand for use of their curbsides for pick-ups and drop-offs by a variety of fleets, including Uber, Lyft, on-demand food delivery, and package delivery trucks. The City of Oakland is advancing their curb management strategies to reduce congestion, support local businesses, and improve safety.
Delivery operators can sign up for the new Smart Loading Zones permit at https://www.populus.ai/smart-loading-zones-oakland. Permitted operators will no longer need to use cash or credit cards to pay for parking at designated meters, but will instead have the option to share vehicle location data with Populus to seamlessly pay for their use of curbsides on a per-minute basis.
This cutting edge partnership was developed in response to an increase in dangerous parking behavior and the misuse of commercial loading zones by non-commercial vehicles. It is also being supported by an increase in parking enforcement activity. The new permit is expected to improve delivery vehicles' access to safe parking options and reduce traffic incidents.
Populus will leverage the Curb Data Specification (CDS), a new data standard that was championed by cities for cities to pilot and scale dynamic curb zones. CDS provides a method for sharing static and dynamic regulations, measuring activity at the curb, and developing policies that create more accessible, useful curbs.
Populus is a key contributor to the CDS standard, and their platform is designed to share curb rules, and receive data from operators, in this approved city standard.
"We are thrilled to work with the City of Oakland to implement the new Smart Loading Zones to contribute to building a safer and less congested city," said Regina Clewlow, Populus CEO and Founder. "Oakland is leading the way in developing and implementing curb management strategies that lead to outcomes that work for both residents and commercial fleet operators."
"Demand for our very limited curb space has increased dramatically over the past decade" said Fred Kelley, Director of Oakland Department of Transportation. "The City of Oakland is excited about this new partnership to better manage the rapid rise in delivery vehicles. Improving the way we use the curb means businesses are able to get goods faster, traffic congestion goes down, and our streets are safer for everyone."
ABOUT POPULUS
Populus helps cities and private mobility providers deliver safe, efficient, and equitable streets. The Populus platform is the only comprehensive digital solution that empowers cities to manage their streets and curbs—with access to mobility data from shared bike, scooter, moped and carsharing operators, and delivery services. The Populus platform serves over 100 cities around the world, ingesting data from more than 40 operators and 150 million rides to date. Learn more at http://www.populus.ai.