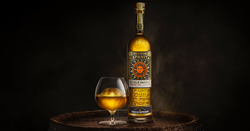 LOS ANGELES (PRWEB) January 23, 2023
Critically acclaimed spirits brand Espanita Tequila welcomes a new limited-edition Barrel Reserve collection to their portfolio of award-winning 100% Blue Agave Spirits. Released in ultra-small batches, Espanita's Barrel Reserve collection will feature unique, complex, and elegantly balanced tequilas with authentic style achieved through innovative aging techniques and experimentation with different types of wood and finishes.
Finished in Bourbon casks, Espanita Double Barrel Reposado Tequila is the first release from the limited-edition Barrel Reserve collection. Crowned as one of the best-rated tequilas on the market, the Double Barrel Reposado Tequila has already received a 97-point rating and a Triple Gold Medal from an authoritative MicroLiquor Spirit Awards, a distinction reserved for spirits that demonstrate extraordinary taste, quality, and integrity.
Meticulously crafted, Double Barrel Espanita Reposado Tequila is initially matured in American White Oak casks, then the aging process is completed in freshly emptied Bourbon barrels sourced from Kentucky bourbon producers. The extended aging process and exposure to two different kinds of wood mellow the spirit and enrich the tequila's flavor profile, resulting in a truly remarkable tequila with captivating aromas of fragrant orange zest, apricot chutney, toasted honey oak, Cherry Heering, and vanilla bean that are joined by heady bright scents of white-peppered sweet Agave and herbaceous highlights of lemongrass and chocolate mint. Tasting notes include roasted agave, cherry cola, and spiced nuts, followed by brown sugar-sprinkled grapefruit and candied ginger with tantalizing hints of clove, allspice, and toasted oak. The finish is smooth and nuanced with rich flavors of toasted coconut, apple wood, hazelnut spread, and lively citrus peel and cinnamon accents. Designed for sipping neat or on the rocks, Espanita Double Barrel Reposado is also perfect in craft mixology, elevating tequila-based cocktails.
"Our limited Barrel Reserve collection reflects the company's commitment to innovation and craftsmanship," says Marina Wilson, President, and Founder of Espanita Tequila. "We believe that innovation is one of the main driving forces behind the incredible growth of tequila popularity in the last years that made this iconic spirit a beverage of choice for American consumers. We shall continue our experimentation with creative barreling and maturation approaches in hopes of bringing more exciting new flavor expressions to Blue Agave fans soon."
Born at the high elevations of Jalisco's Highlands, Espanita Tequila pays homage to multigenerational traditions of the tequila-making craft that originated in Mexico hundreds of years ago. Driven by the passion for Blue Agave spirit, each unhurried, labor-intensive step of the brand's artisanal production process is steeped in heritage and results in a complex, agave-forward tequila that showcases a refined Highlands' terroir in every drop, with its characteristic sweetness and fragrant, citrusy accents that will delight even the most discerning tequila connoisseurs.
Bottled at 40% ABV and presented in 750 ml bottles featuring the Sun in Splendor on the labels, an ancient emblem of glory, Espanita Double Barrel Reposado tequila has a suggested retail price of $42.99 and is already available in selected markets. Following the launch of Double Barrel Reposado Tequila, the brand's Barrel Reserve Collection is soon followed by a bourbon cask finished ultra-premium Double Barrel Espanita Añejo tequila, which is planned for release in the second half of 2023.
About Espanita Artisanal Tequila
Espanita Tequila is a critically acclaimed 100% Blue Agave tequila brand with a growing portfolio of handcrafted tequilas, currently comprised of "Artesano" and "Barrel Reserve" collections. Award-winning "Artesano" range offers three super premium staple age expressions of Blue Agave spirit: Blanco, Reposado, and Añejo, while the brand's "Barrel Reserve" collection showcases innovative aging techniques with its flagship release being 97-point rated Double Barrel Espanita Reposado tequila finished in bourbon casks. Produced in the heart of Jalisco at the independent family-owned and operated distillery from mature Agaves grown at the high elevations of Los Altos, Espanita Tequila celebrates traditions and heritage of tequila-making craft in Mexico, stemming back hundreds of years.
Since its launch in 2017, the female-founded brand has received recognition for its excellent quality and craftsmanship, taking home 18 Gold, Double Gold, Triple Gold, and Platinum Medals from such accredited spirits competitions as SIP Awards, Ascot Awards, Beverage Testing Institute, USA Spirits Ratings, MicroLiquor Spirit Awards, and others, with awards and accolades including Tequila of the Year award from Bartender Spirits Awards as well as "Best Buy" award and "Top 100 Spirits" from Wine Enthusiast. For more information about Espanita Tequila, visit http://www.espanita-tequila.com or @espanita_tequila on Instagram.