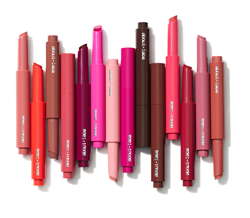 "I wondered….how could I replace the 20 forgotten lip balms at the bottom of my bag with one great product?" said Halsey, Founder and Chief Creative Officer. "Then, Cherry Pick was born; an all-in-one lip oil balm that drenches lips in sweet color for a wet, juicy pout."
LOS ANGELES (PRWEB) January 18, 2023
about-face, the multi-dimensional color cosmetics brand founded by Ashley Frangipane – professionally known as Halsey – announces the release of a new range, Cherry Pick Lip Color Butter, an all-in-one, richly pigmented lip oil balm. In launching the collection, the brand introduces the unique oil-balm hybrid with an uber-juicy campaign, Ripe & Ready, to convey the product's wet, melt-on-your-mouth sensation.
Made for thirsty lips, Cherry Pick drenches the mouth with luscious ingredients to fully saturate and moisturize the pout. Formulated with a nourishing blend of Argan oil, avocado oil, cocoa butter + antioxidant-rich cherry butter, the balm transforms lips into feeling soft, supple and full.
The buildable formula also features pomegranate flower extract to impart a natural plumping effect to the lips. Topped off with an ambrosial aroma, the fruity scent leaves an all-too yummy experience on the lips – you'll want to take a bite.
"I wondered….how could I replace the 20 forgotten lip balms at the bottom of my bag with one great product?" said Halsey, Founder and Chief Creative Officer. "Then, Cherry Pick was born; an all-in-one lip oil balm that drenches lips in sweet color for a wet, juicy pout."
Cherry Pick is formulated in a variety of vivid hues – ranging from peachy nudes to hot fuschia and dark reds – that work on all skin tones and give the consumer a wide breadth of options to suit their mood.
"We've picked 14 versatile shades to feature in the collection, so you can play however you please," said Halsey. "Date Me is my fav to load on for a dark 90s-inspired lip, and I love a dab of Cherry Good for that blurred and effortless French girl pout. Not only are the colors incredible, but we also packed the formula with lush ingredients to keep your lips feeling moisturized and soft. The cherry on top – the cinnamon-peach scent that lingers after you apply. Too delicious."
Cherry Pick Lip Color Butter is also now sold in-store at Ulta Beauty. Expanding its collection in select doors across the country, about-face now offers a full assortment of eye, cheek and lip products in-store – especially with the introduction of this new product category.
Cherry pick your color from the vast assortment of hues – NASHI PEAR (warm nude), PINK PIÑA (soft pink), PAMPLEMOUSSE (juicy rose), GUAVA CRUSH (pink coral), PEACH PUNISHER (cinnamon peach), WATERMELON TAKE (flamingo pink), BERRY SMASH (spring violet), DRAGON FRUIT FUSION (hot fuschia), ORANGE DAZE (red orange), CHERRY GOOD (cherry red), WICKED APPLE (bordeaux wine), KIWI FUZZ (nude cocoa), THE CRANBERRIES (spiced wood), and DATE ME (deep espresso). The new drop retails at $15 / each and is available on about-face.com, Ulta.com and in Ulta Beauty stores nationwide.
About about-face:
Makeup without rules. Made for the many versions of you, about-face is multidimensional makeup for everyone, everywhere created by Halsey and built on the truth that no one is just one thing and all humans are weird, complex and imperfectly beautiful beings. Everyone has their own messy, mad and personal method to becoming the greatest version of themselves, so we make products that are hardworking over hype, designed to celebrate the journey to become every version of us and all experimental versions along the way. Our pigment-saturated, long-wearing, buildable formulas empower self-expression and are 100% vegan and cleanly formulated.
About Halsey:
Halsey has amassed more than 40 billion global streams, with over 60 million RIAA certified adjusted singles and albums sold in the US to date. Her latest album, If I Can't Have Love, I Want Power, was released in August of 2021, produced by Trent Reznor, and was Grammy-nominated for Best Alternative Music Album at the 64th Annual Grammy Awards. It follows the release of Manic, which debuted at No. 1 on Billboard's Top Current Albums chart. It was the first album of 2020 to be certified Platinum in the U.S. and attained Platinum certification in numerous other countries. In both 2019 and 2020, Halsey ranked as Top 5 Female Artists on Spotify with 41 million monthly listeners globally and 19 million followers on the music streaming platform.
Halsey continues to push creative boundaries, exerting an influence and impact beyond music. Her first book, I Would Leave Me If I Could: A Collection of Poetry, debuted on The New York Times Best Sellers list in November, 2020. Named as one of TIME's 100 Most Influential People of 2020, they have won over 20 awards, including an AMA, MTV VMA, GLAAD Award, the Songwriters Hall of Fame's Hal David Starlight Award and a CMT Music Award. In 2021, Halsey introduced about-face, a multi-dimensional makeup line made for everyone. Halsey continues to speak up for important causes such as disenfranchised youth, women's rights, mental health and the LGBTQ community.